Tables come in a variety of shapes, sizes and finishes.
But there's one more consideration to make too – do you want a flip-top or a folding table?
They might look similar when they're up, but how they're stored and set up is very different. Here's an overview of the benefits of each, to help you decide which type of table top suits your space and storage needs:
Flip-top: Easy operation, simple storage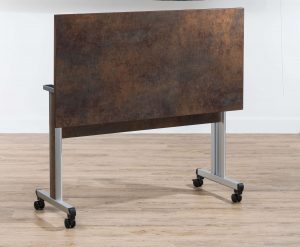 So what's a flip-top table exactly? It's where the entire top of the table simply flips or pivots so it sits vertically next to the top of the legs.
The big advantage of this design is that it makes the table easy to store and as the table top is never close to the ground, the potential for damage is minimised.
When you're ready to use a flip-top table, just wheel it to where it needs to go – it's on castors for easy, no-fuss and fast set-up.
Our most popular flip-top table is the Configure-8 Flip-Top. Key features of Configure-8 Flip-Top include:
Quick-release mechanism for safe set up and operation
Option of rectangular, half-rounds and quadrant extension corners
Wide range of sizes
Choice of top finishes: High Pressure Laminate or Real Wood Laminate
Matching infill panels
Modesty panel
Table connector
Power modules and cable management can be added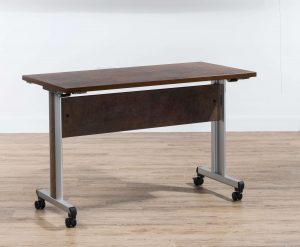 Folding tables: Robust, strong and fast folding
A folding table is where the legs simply fold up underneath the table itself, for a practical storage solution. Folding tables are stored horizontally, often using an optional storage and transportation trolley, which stacks and stows the tables and easily wheels them into place when needed.
Because folding legs allow you to store more tables together, a folding table is the ideal solution for larger venues which have increased table number requirements.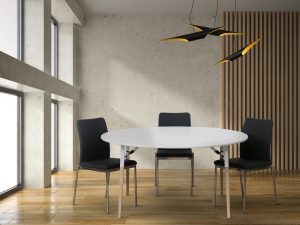 Burgess Furniture's folding tables come in a range of sizes, table finishes and styles to suit all spaces and include discreet linking connectors to customise table layouts. Popular tables include:
Configure-8: Our popular and stylish Configure-8 table is also available as a folding table, in rectangle, D-End and Quadrant corner shapes.
A-Fold®: The newest addition to our range of folding tables, A-Fold® table is quick to install and fold down thanks to a folding mechanism that secures the legs flat against the table top for minimal storage space.
System-C: System-C features folding legs and integral stacking buffers for easy storage.
Other folding tables include Slimfold™ banquet tables and Lightfold dining tables. We also created the stylish Tabou table for intricate cocktail spaces, which is available as a fixed or flip-top.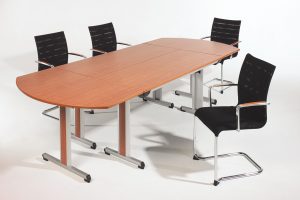 Explore our full range of flip-top or folding tables here or talk to our team on 0330 333 9258 to discuss your event and space requirements, and we'll advise suitable tables to match.