The design of your lobby can set the whole tone for your hotel. Remember, first impressions of places and people are made in seven seconds. When it comes to the design of your lobby and creating the perfect space for all your guests, you need to consider precisely what your guests will see as soon as they enter your hotel. If you don't make the best impression, you will automatically be on the back foot regarding getting guests on-side and providing them with an exceptional experience.
Guest experience
"If you lose them at the beginning, it is very hard to recover. In their mind, they've decided it is a bad hotel".
Douglas Nysse, Director of Project & Development Services at Colliers International
To capitalise on the guest experience, you need to make sure you make the most of those first seven seconds. This starts outside of the lobby or at the doors. Having someone greet guests as they enter and assist them will ensure they start their stay the right way. Be it something as simple as opening a door, relieving them of their luggage or offering them a drink and a seat while they wait to check-in. Paying attention to the small details will set you apart and start their stay with you the right way.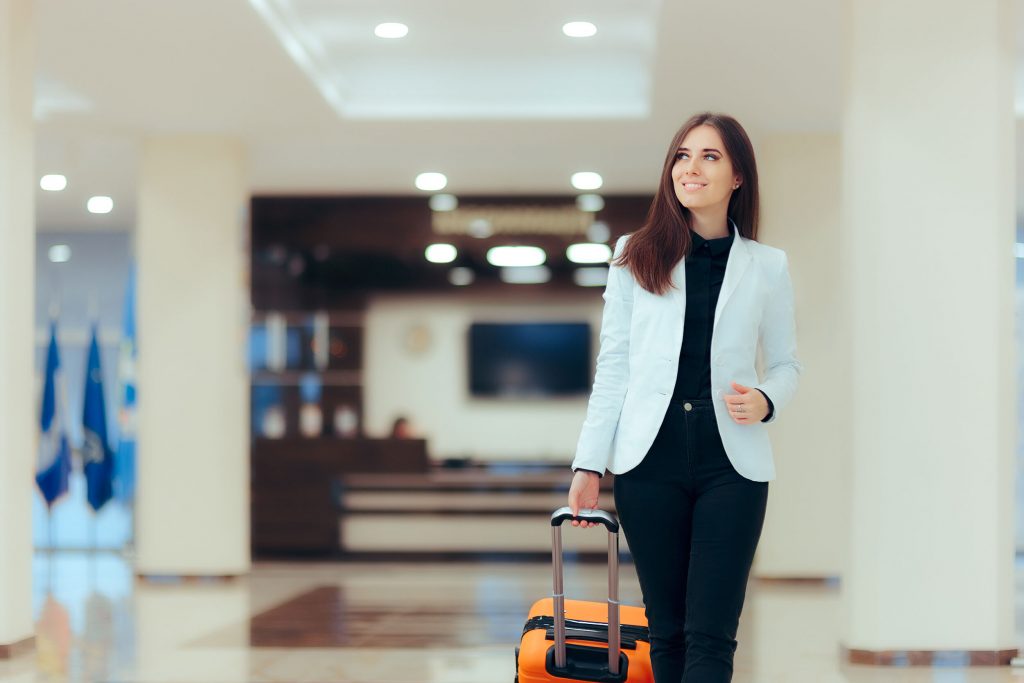 Target guests needs
Who is your target market? While hotels can have a broad appeal, knowing the type of person staying at your hotel and why they are staying can allow you to consider the most suitable theme and style for your lobby.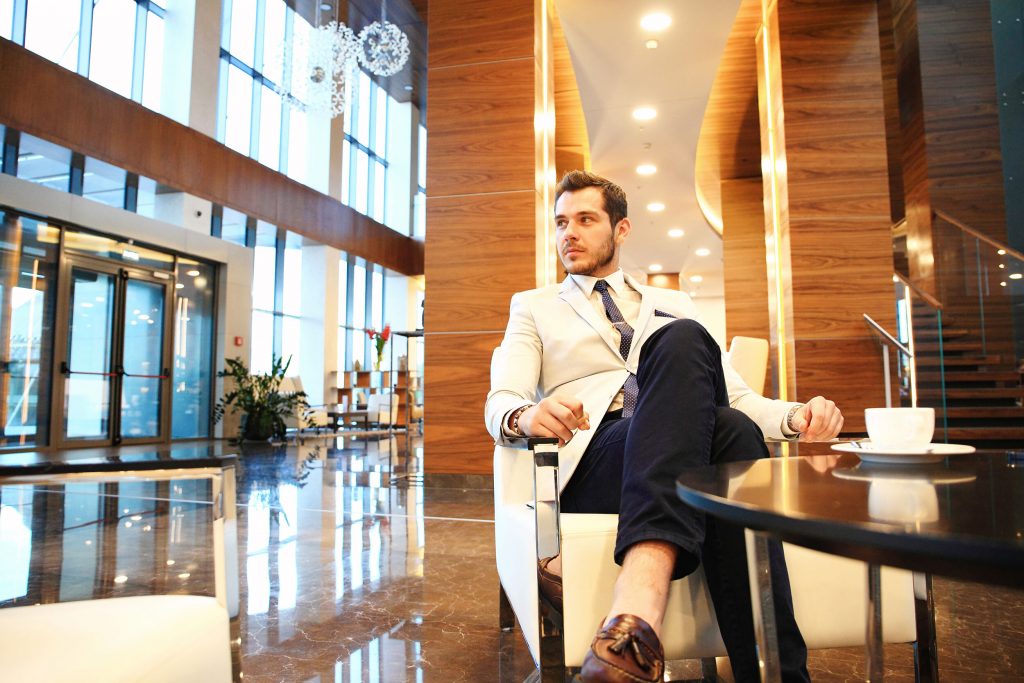 Millennials visiting for a base for weekend trips will require a different level of service than families staying for a week who need more of a home from home type experience. Again, the level of luxe you add needs to reflect the type of person staying with your hotel. Those paying for a more upmarket experience will expect a more impressive experience than those looking for and paying for a no-frills experience.
Identify how your lobby is used
It goes without saying that the design of your lobby speaks volumes as to how you approach hospitality. Getting your lobby design on point requires you to address how guests use your entrance.
Lobbies are the heart of your hotel and guests will expect to be able to use the lobby and your reception staff for various activities, so they need to be versatile.
These activities can include:
Checking in/out
Waiting area
Meet and greet for events
Information hub
For social aspects/relaxing
Working
Once you have pinpointed what your guests will be expecting, you can then work on creating the best design.
What to consider in your lobby design
Creating the best lobby for your guests comprises various design aspects. From the furniture you use and the placement of the tables to your colour schemes, lighting options and flooring too.
Your design needs to accommodate the flow of customers, your hotel's theme and the style of the building. The best lobbies are those that have paid attention to their clientele, e.g. professionals, families, couples, groups, etc., and created a design that supports the hotel's branding and use. To help create the right look, customise furniture by choosing the fabric colour, the finish of the materials or the style of bases. Source complimentary seating and tables that will blend with the environment to provide the experience you desire.
For fun, busy, vibrant hotels with a younger clientele, why not consider a central hub? The hub will then form an attractive focal point to create the perfect hotel lobby for your guests. You can then develop your lobby with bright colours, fun artwork and furniture that screams to be shared on social media. Incorporate fun, modern designs and patterns with colours and open spaces that appeal to their target customer. Take a look at our SmartRocks® for a contemporary design. Not only are they designed with comfort in mind, but they are functional too.
Hotels that are less family-focused and attract more professionals or couples will benefit from subtle tones and sophistication, with more privacy. This can be established with stylish screens that can help break up a large open space into smaller areas for guests to enjoy.
Furniture can make or break a space
If your guests encounter poor furniture, uncomfortable seating or even cluttered layouts, their expectations for the room will automatically be lowered and detract from the overall guest experience.
Your furniture is integral to the success of your lobby. From the durable, soft seating and convenient tables for tired children to feel comfortable while parents check-in, to relaxing elegant seating areas boasting the ultimate in luxury and design, you need to ensure that your furniture hits the spot. The Burgess Smart Qube® system is a functional yet modern seating arrangement that comes as a stool, a bench, table or corner unit and can be configured to fit your lobby layout. For families, this configuration allows both parents and children to sit and relax in comfort and can be designed with integrated charging points and even wireless charging.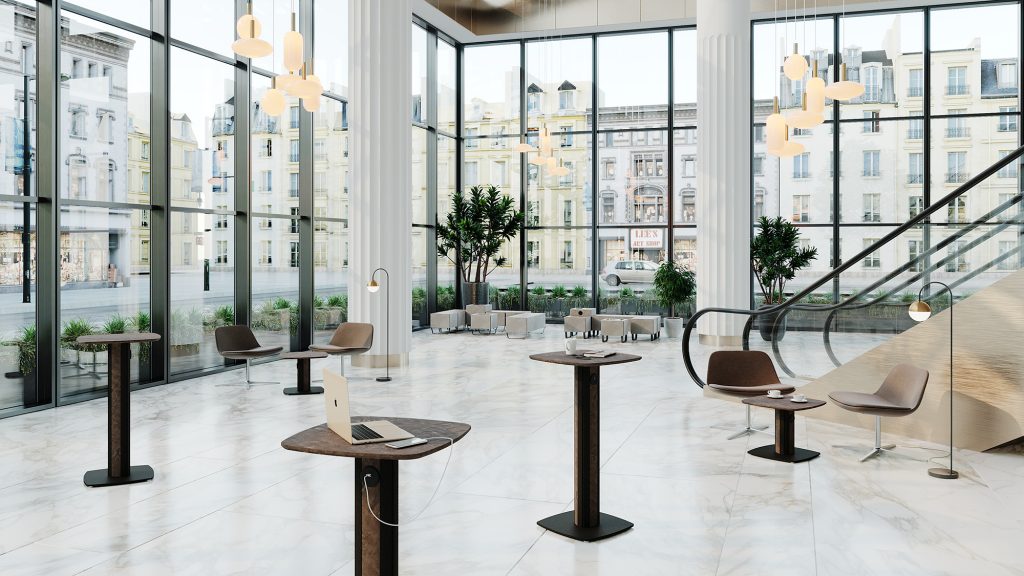 The good news is that Burgess can provide high-quality lobby furniture from tables to chairs, desks and more that will elevate the standard guests can expect to see throughout the hotel. Don't forget that your lobby furniture needs to be hard-wearing and durable. It will be in near-constant use and having good quality furniture that can withstand frequent use is vital. It needs to remain in good condition while also being comfortable at the same time. This is where it pays to invest a little more; you will be pleased you did.
However, while it can be tempting to fill your lobby, less is more. Why not make a focal point of a seating area to combine design and functionality without cluttering up the space? Need some help? Burgess offers a free layout service.
And the finishing touches
No one wants to walk into a stark hotel lobby sparsely decorated with minimal furnishings unless the hotel's theme is minimalism. You want it to not only be impactful but inviting and welcoming too. This is where those finishing touches come in.
From statement lighting that uses warm, soft lights that create a calming atmosphere to sumptuous rugs defining seating areas and spaces for visitors to sit and relax, not forgetting well placed floral arrangements or statues to help you pull together the overall look and theme.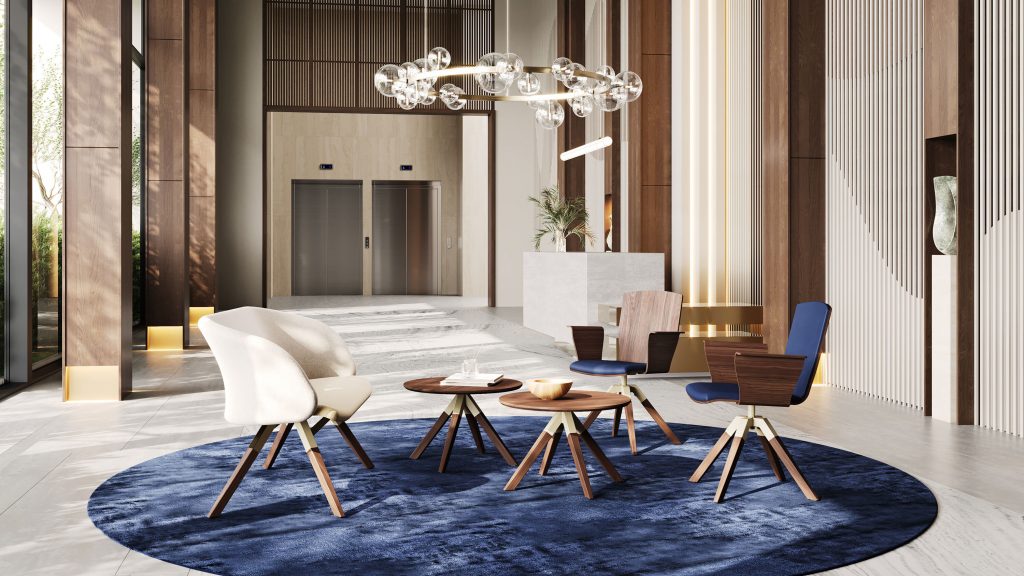 Everything plays a part in how welcoming your lobby is and its impact on guests, from the colours you choose for your decor to the music you play and even the placement of your reception desk.
If you need help piecing together the perfect customer experience for your guests, contact our highly experienced and knowledgeable team on + 44 (0)33 0333 9258 or email us at hello@burgessfurniture.com.