As any discerning hotel manager knows, setting up for a conference is pretty straightforward.
There are the chairs and tables to think of, as well as the technology to run any presentations from and all the signage to point guests in the right direction.
But what about the furniture and accessories that often get forgotten? The pieces that are not only essential but often the most overlooked? We've pulled together a helpful list of five items that you must remember when you next host a large conference at your hotel.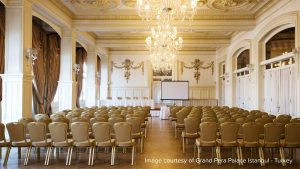 The Lectern
Most conferences are likely to have a guest speaker, addressing the room. How will your hotel accommodate their needs? Will you give them an official platform to stand behind? This is where a lectern becomes an essential conference piece.
At Burgess, we have a range of lecterns to suit any venue with a choice of extras such as cable management, personalised logos and high-quality microphones built in. We've thought of everything, so you can have peace of mind.
The Stage
Have you thought about how everyone will see the conference speaker? Not every hotel comes with its own raised stage. Burgess offers centrefold platforms of single or dual height, and they come with optional stage skirting to add style.
Non-slip as standard with the option of carpeting in various colours, our platforms are also sturdy and safe, exceeding UK and EU safety standards. And when your platform is not in use, it can easily be stored away without taking up too much room thanks to its unique folding feature.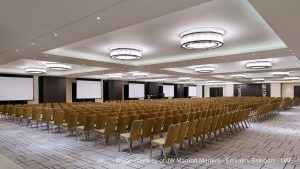 The Space for the Speakers
Sometimes, speakers will need to stay on stage to address the conference. There might be a panel discussion, for example. In which case, you'll need a table and chairs for the stage. We recommend Burgess's Configure-8 range, paired with our ergonomic Vario-Allday™ chairs, which offer lumbar support and contoured seating for comfort.
The Screen or Space Divider
What about the things your client doesn't want guests to see? Like an area next to your kitchen where staff can prepare a banquet out of sight? This is where partition screens become a lifesaver.
At Burgess, our newly launched host a large conference at your hotel is designed to add privacy without compromising on style. Wrapped in a soft, high-quality material, it adds intimacy and warmth to any space whilst helping to reduce noise. Even better, it can be customised to suit the style of your venue thanks to dual panelling and many design options available.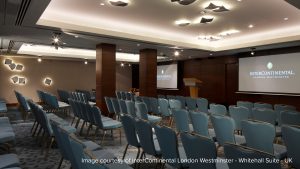 The Versatile Banqueting Table
Whether a conference lasts just half a day or runs through until evening, guests will need to be fed and watered throughout. From breakfast and lunch to essential coffee breaks in-between, it's often your responsibility to keep everyone happy.
As banqueting needs change during any conference, you'll need hard-working furniture that is flexible and can be quickly adapted. We recommend Burgess's Lightfold range, as it's lightweight, extremely versatile and is great for venues that need to change room setups quickly and often. Throw on a tablecloth and you're done.
Are you looking at upgrading or setting up a conference room at your hotel? We'd be happy to discuss your needs and come up with a range of options to suit your budget.