Thank you to everyone who stopped by during our Hotel Show exhibition.
With trade events continuing to grow within design hub Dubai, this September, Burgess took part in the 20th edition of The Hotel Show.
Known for its luxury market and grand hotels like Mövenpick Media City and Five Palm Jumeirah, the UEA destination plays host to some of the top hotel and hospitality trade and design events in the world.
The biggest event to date
This year, The Hotel Show expanded to co-locate with INDEX, Workspace, Surface Design Middle East, FIM and INDEX Home, making it a huge event attracting over 30,000 visitors from hoteliers, event managers and interior designers to chefs, architects and sales-men and -women. With over 400 companies showcasing their products from furniture to crockery and everything in between, this is the largest, longest-standing and most prestigious hospitality trade event in the Middle East and Africa that caters to the hospitality and leisure sectors.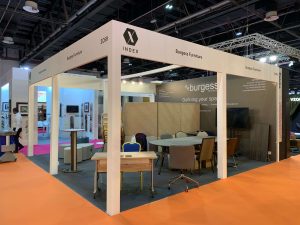 As the 15th time exhibiting for us, the show is always a fantastic opportunity to meet with our customers, clients and fellow businesses. Our designs and products may have evolved over the years, but our passion for the industry and commitment to quality have remained throughout.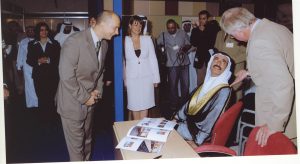 "Another exciting 3 days. It's always great to catch up with industry colleagues and partners in the region." – Simon Mead, Sales Director at Burgess Furniture
Trends to note
This year, we brought along some of our newest products such as TriSmart, SmartRocks® and Walsh High Back, as well as officially launching our brand new partition screen SplitScreen.
We're delighted that these products were received well by those that stopped by. For those who didn't attend, here are some of the key trends we noticed over the event;
Technology is the future. You probably know this already, but there is an undeniable lean toward tech when it comes to furniture and interior design. Our TriSmart®, with its option of wireless charging and USB ports, was a particular favourite amongst the tech-savvy hoteliers.
Gold finishes are highly covetable within the Middle Eastern market, making our Malawi finish from our newest frame finish range, Architectural Collection, a sought after choice.
Adaptable and moveable furniture make ideal solutions for multi-use spaces. Our products such as SmartRocks® with its modular design, and A-Fold®, with its foldable legs, are easily transportable so you can design your space your way.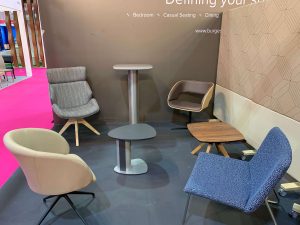 To learn more about our products, visit our website at www.burgessfurniture.com or contact our team today on 0330 333 9258