We've all been there, rushing out the door to a meeting when the dreaded bleep comes from your phone. Battery low.
Within the hospitality industry, huge varieties of people will pass through your spaces; off to meetings, dates, dinner, off to clinch that lucrative business deal; and according to Statista, 94% of adults own a mobile phone*. That's almost everyone.
As a hotel, for example, your main aim is to make sure your guests are as comfortable, looked after and prepared for their day as much as possible. With clever furniture design from Burgess Furniture, you can add subtle features to your spaces that'll keep your customers turning to you, and not the competition.
Break out areas in lobbies, or relaxation spaces in receptions, all make for great meeting spots, waiting spots and catching-up-on-work spots for your guests. But if they hear the dreaded low battery bleep, don't leave them searching for the elusive wall socket or entrusting their device behind the reception, out of reach of their inbox.
What do we offer for your style?
Natural Spaces
SmartRocks® are a modular range of stools, benches and a power tower table that can be easily moved around your space to create sectioned areas for guests. The 'pebble-like' design of these rocks add a softness to any area, with rounded corners and no sharp edges. Each rock is fully upholstered and available in a wide variety of fabrics so you can match or contrast your venue's colour scheme.
There are three shapes to choose from; triangular, round and square; which can be mixed together to intensify the natural, easy feel. Where does technology come in? A twin USB port and socket panel can be added to the bench or power tower modules with hidden wires, giving guests the opportunity to plug in their devices as they relax, or work, in the space. This range also incorporates wireless charging, (available on the power tower only) when a HPL top is chosen. This allows guests to merely place their phone on the table for it to start charging.**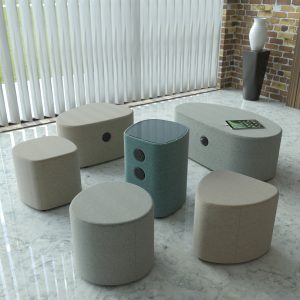 Sophisticated
Smart Qube® is another modular based system of cubes that can be zipped together to form any shape you desire. Consisting of stools, benches and tables, this range allows for dual and single fabrics or leathers and can feature a sleek, glass top to the table unit.
Much like SmartRocks®, Smart Qube® can incorporate charging ports with a single USB and plug socket available to install in all modules. There is also a wireless option**, available on the table, you just need to choose a HPL top.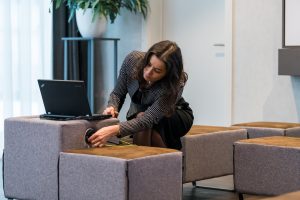 Modern
Our newest addition to our table range, TriSmart brings both wireless** and twin USB port options in its sharp, dynamic design. Cabling is hidden within the unique, aluminium extruded leg and five different top shapes mean you can find the right style for your aesthetic. The TriSmart range, unlike the other two options, comes in two table heights – coffee and poseur. The coffee table height, as the name suggests, is perfect for break out areas where guests can take a break with a drink, or sit with their laptop to catch up on emails, and charge devises at the same time. The poseur height creates a unique space for your guests. The higher, standing table is great for lobbies and reception areas that may not have space for a sit-down area, providing a place for guests to rest, place drinks, work from laptops, etc.
The base of the TriSmart range also features a PTFE base, a clever, plastic compound that keeps the hard edges of the table off the ground, protecting your floor whilst making the table much easier to slide around on your surface. The range can be repositioned with ease to create a multitude of space arrangements to suit your guests' ever-changing needs.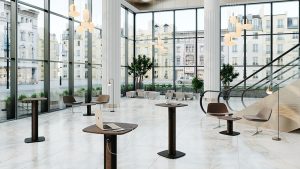 How does it work?
The tables/modules themselves, in order to provide power, must be connected to a mains supply. There are easy to use connectors hidden within the frames of the furniture, which can simply be plugged into a socket. The most common use of these is to plug in the items to an under-floor power supply – this removes any trip hazards for guests. The columns are hollowed to allow space for cabling, and both UBS/socket ports and wireless charging are controlled separately via two different cables.
Here at Burgess, we work with a global client base, so our sockets suit most international requirements – UK, Europe and USA. (Please do contact us if you are based external to these locations and are looking for these products.)
This gives you the flexibility to create the space you need, in the space you want. Define a space that your guests, not just their devices, will feel energised to use.
Give us a call today to discuss your options and get a quote on 0330 333 9258.
*Based on statistics from 2017
**Dependant on devise compatibility