For the foreseeable future, every industry will continue to change how they use their space. Having the flexibility to increase and reduce tablespace will prove to be a highly resourceful commodity to support your business needs.
This ultimate guide aims to address all of your questions regarding folding tables. From the fundamentals to the more advanced aspects of what to do and how to do it. You'll be surprised at how much you can learn about tables that fold.
We'll look at the different types of folding tables, as well as their maintenance, handling, benefits and drawbacks. This will also include other options to consider when purchasing these types of tables for your venue or business.
Browse the full guide or choose on a quick link below
What is a folding table?
A folding table is designed to fold up and down as required and can easily be moved when not in use.
The main advantage of using fold-out tables is the ease in which they can be set up or collapsed quickly and moved to another location. Standard fixed-legged tables will often require two people to move them and can be troublesome to relocate from room to room.
Folded tables make setting up for any event size far quicker by transporting and unfolding multiple tables at a time when used with a table trolley.
When they're not in use, some folding tables can be easily stacked and kept in an alcove, a corner of a room or help make space when cleaning is in progress.
How do I know if I should buy a folding table?
If you use your venue for multiple purposes or find you're lacking space, then folding tables are for you. But it doesn't stop there. Many businesses experience the need for adaptable table space when they move or staff numbers change. It's good to have a flexible and sustainable model that will not cost you more in storage.
What to consider when buying folding tables
First of all, folding tables are no longer just for occasional use. Their construction and design make them more than a viable alternative to fixed-legged tables.
Depending on the material, design and build quality, they will facilitate your requirements for a substantial time in a high-use environment if suitably cared for. Although fold-out tables are designed to be as light as possible this doesn't detract from their durability.
It is not difficult to go shopping for foldable tables, but there are some crucial things to look for when purchasing:
Weight: What is the weight of the table?
Carrying & setup: Will you need more than one person to handle the table?
Space: How much space is required to unfold the table?
Durability: What are the frame and tabletop made of?
Strength: What is the maximum weight the table can support?
Sizes & shapes: Are there different sizes and shapes available in the range?
Tabletop & edge laminate: Can the colour and style be customised?
Attachments: Are there other options available to connect tables?
Leg finish: Can the finish on the legs be customised?
Trolley: Is a table trolley available?
What are the different types of folding tabletop shapes?
Like regular fixed-legged tables, foldable tables come in various shapes and sizes, each of which can be suitable for different use.
We've put together a list of the most common types on the market and why you might wish to choose a specific style.
What are the different types of folding tabletop materials?
Depending on how you intend to use your foldable tables, it's worth considering the material the tabletop is made of as it can make a big difference. The most practical and popular options are plastic and wood.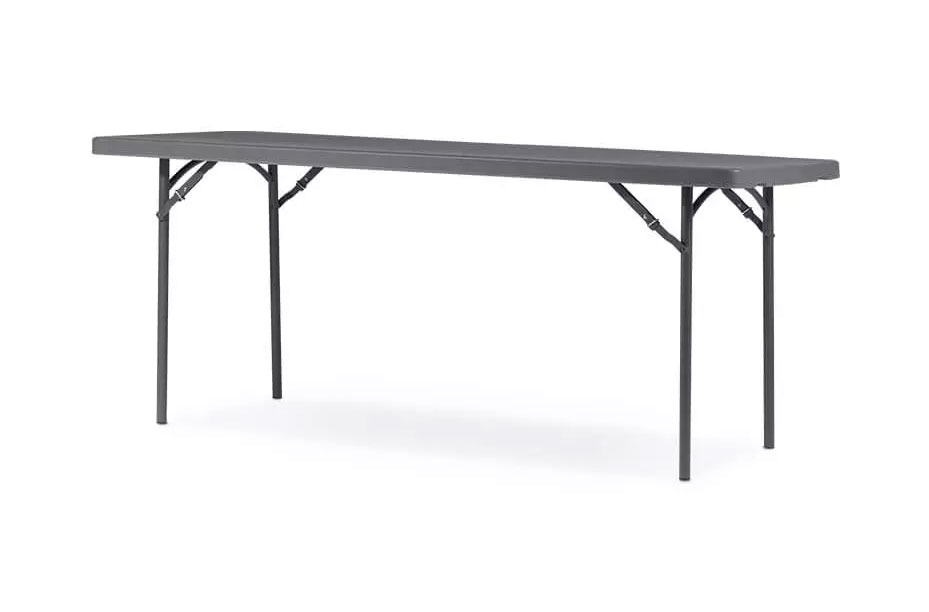 Plastic tabletops
Plastic tabletops are inexpensive, making them ideal for high usage where the appearance is secondary to the function. They are great all-rounders that can be used both indoors and out.
Easy to clean and lightweight for quick operation making it possible for one person to handle. However, as they are lightweight, there may be limits on how much weight the table can hold.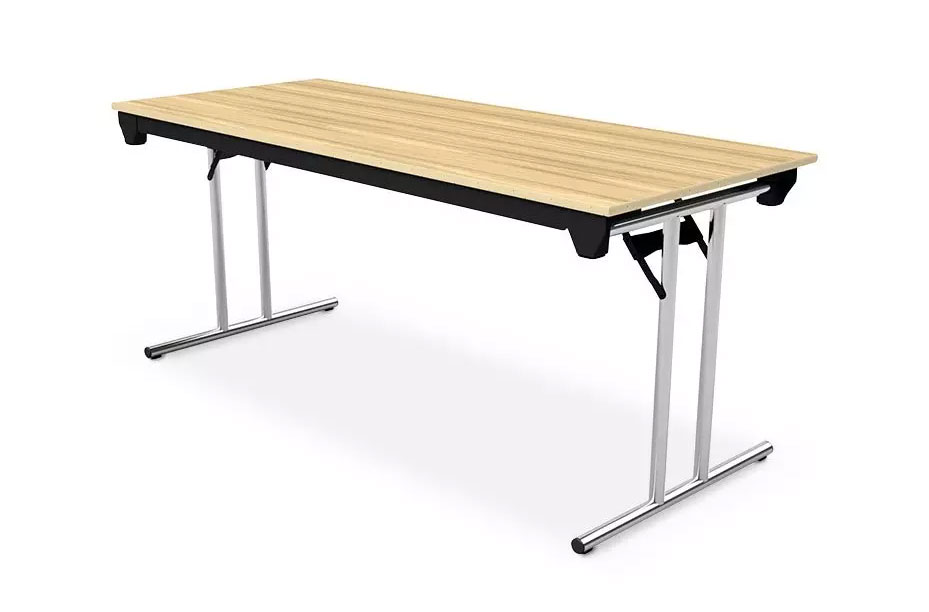 Wooden tabletops
Wooden tabletops provide style and durability. The top surfaces and edges can be customised with laminates offering different finishes to match interiors.
Depending on the size of the table, they can be heavy and will require two people to carry safely and set up. Small fold-out tables should still be light enough for a single person to lift and unfold.
Wooden tabletops are generally sturdier than plastic top tables as the legs are designed to support heavier loads, but do beware there will still be a limit.
What are the advantages of folding tables?
When looking at the advantages of folding tables, you have to compare them to other options available to highlight the benefits.
Creating additional space and changing layouts
Tables can take up space, especially when they're not being used. The majority of businesses will have tables that are fixed-legged which restricts the flexibility and layout. In a given space, the fixed-legged table will only allow you a limited amount of configurations. To free up space the only option is to store unwanted tables at additional cost, dismantle or dispose of them. If you have fixed-legged tables that stack, this may save on storage, however, you're likely to lose the use of not just one but two tables.
With folding tables, if they're not required for any amount of time, you can easily collapse them when unused. Once folded, neatly move them to the side out of the way to create more space for employees to move around safely or reshape your layout with less furniture. If you have multiple tables not being used, they can simply rest against one another.
To store or not to store? That is the question!
How do you store a fixed-legged table? They don't often stack and other than breaking open the Allen keys to dismantle them, it's not a job you want to have to do regularly. Folding tables require minimal effort to collapse and move. What's more, you can neatly nest multiple tables against a wall away from the areas that are frequently used. If your requirements are on a larger scale, you can usually acquire table trolleys that can hold as many as 8 foldable tables to make transporting and storing them even easier.
Simple storage, transportation and deployment
The storage of folding tables is straightforward. When storage space is at a premium, collapsible furniture allows you to make the most of the space you have.
Furniture that folds flat makes them extremely easy to transport from storage to where it's needed. They are uncomplicated to assemble, taking less than a minute to deploy.
Flexible offices
With a good majority of employees spreading their time between working from home and in the office, there's little point in having empty desks taking up much-needed space. With folding tables, on the days they're not being used, you can simply fold and move them aside. This gives those that are in the office more space to social distance.
Growing or downsizing your business
No matter the company, there could be a point whereby your business rapidly expands or contracts, and you'll require more or fewer tables. You may even move offices to reduce the overheads or to gain more space. With tables that fold, no matter whether the capacity increases or decreases, you have the options available to you. Providing an instant solution without having to consider purchasing new tables or what to do with the tables you no longer have room for.
Folding tables come in a variety of sizes and styles
Folding tables are available in all sorts of designs and styles, as well as a variety of forms and sizes. Numerous materials are utilised for diverse aesthetics, ranging from metal and plastic to wood finishes such as Maple and Oak. Explore the possibilities available to get the fold-away furniture that best meets your demands.
Multi-functional for any event or purpose
From grand functions, formal conferences or your home offices, fold-out tables are versatile for nearly any environment. You'll be able to find a dedicated range for nearly every type of purpose with the quality to match.
Can I stack different types of folding tables on top of other collapsible tables?
Stacking different types of folding tables on top of each other is not recommended since the surface and legs may get damaged. Piling up multiple tables of various sorts can make the stack unsteady and lean to one side, posing a hazard and risk of harm.
What are the drawbacks of a folding table?
Foldable tables, as with anything that has moving parts, have an increased possibility of a component failing compared to a fixed alternative. However, the mechanisms that hold them are engineered for durability and are specifically designed for frequent use. The other aspect to be mindful of is the weight the table can support safely. Where you have joints that are held by nuts and bolts, they will not be as strong as two pieces of welded metal. Therefore, if you place heavy loads on the surfaces, check the limits with the manufacturer first to ensure they are suitable.
Where can I buy folding tables?
Where you purchase your foldable tables will depend on how they'll be used. There's a large supplier base for these tables so it's critical to not only select the correct design but also the right manufacturer, as they typically specialise by industry.
Before buying, we always recommend viewing the table in person to evaluate how it folds, handles and is constructed. Burgess Furniture has a showroom devoted to our ranges, which you are free to visit at any time. To schedule an appointment, simply email us.
What accessories can I use with folding tables?
Along with the table itself, add-ons can be used to enhance their use or purpose. Some of these are listed below: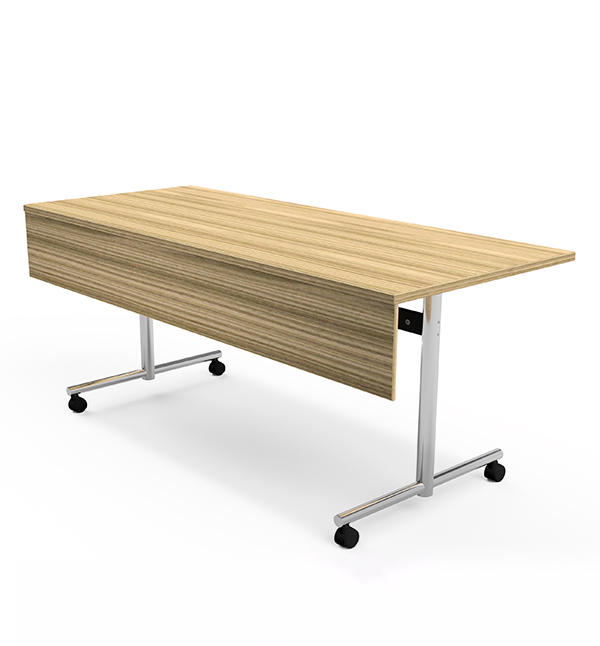 Detachable modesty panel
To shield the view beneath the table, a panel can be applied to the front of the table.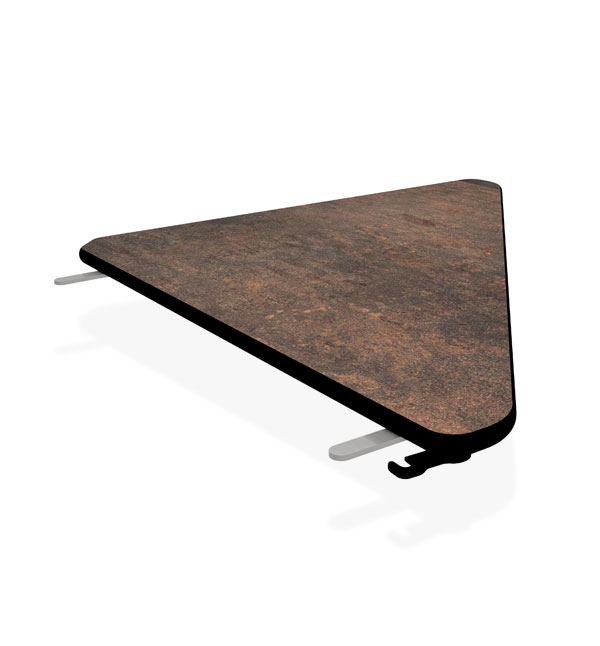 Bridge tops
For extra surfaces in between your tables or to create u-shaped arrangements and more, bridge tops can be easily attached.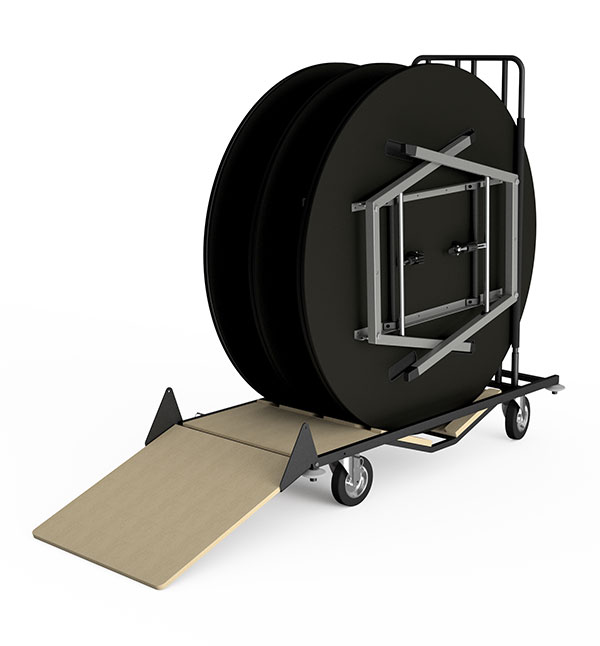 Table trolleys
Part of what makes folding tables such an important part of hospitality and events is the ability to move large numbers effortlessly. Table trolleys facilitate the means to transport up to 8 tables at a time, allowing set them up in a fraction of the time that it would take to individually carry fixed-legged tables from one place to another.
How to avoid damaging the folding table and surroundings when handling
If not managed properly, moving a large number of folded tables around as rapidly as possible might be dangerous.
You should never drag folding tables because you risk damaging not just the table feet but also the floor. We recommend that folded tables be transferred using a table trolley to reduce the chance of damage to the tables or the floor. Table trolleys make transporting multiple tables from storage to a venue or room much easier, saving time and preventing your personnel from dragging tables up and down corridors or stairs.
How to avoid personal injury when moving multiple foldable tables
We suggest that tables be moved by utilising a table trolley to reduce the danger of human injury and any damage to the tables you're transferring.
You can balance the weight and ensure that you stay safe by using a table trolley with stacked tables. This can assist in preventing personal damage from hauling large tables around, which can put a strain on a person's body.
Make sure you never load more than the recommended number of folding tables while stacking them. Over-stacking can be dangerous since the stack can become top-heavy, causing the trolley to tip. Ensure that the tables are correctly aligned and not at an angle while stacking them on top of one another.
How to move folding tables safely with a table trolley
Although utilising a table trolley may appear straightforward, you must exercise caution to avoid mishaps. Take the following steps:
Only the recommended number of folding tables should be stacked or placed on a single trolley.

Place the tables carefully into position either lowering them using the guide rails if stacked or sliding them into position if upright.

When pushing the trolley, avoid going too fast and take bends slowly.

Before wheeling the loaded trolley, walk the path you want to take. This will save you time and help you avoid difficult situations.

Before moving the trolley, make sure the path is clear of obstacles.

Take the elevator instead of the steps. It is not advisable to use a loaded trolley to climb or descend stairs.

Be cautious of steep inclines or drops in the floor where the trolley may become awkward to handle.
How to transport your folding tables safely without the use of a table trolley
We understand that not everyone has access to table trolleys, so here are some helpful tips:
Always read the handbook to learn how to raise and lower the table properly.

When lifting any table, using the correct method will help to ensure that you do not damage yourself.

Make sure your knees are bent, your back is straight, and your head is up.

If the work appears too difficult for an individual to do alone, they should request assistance rather than risk harm and/or damage to the table.
How to avoid personal injury when using a folding table
It's important to bear in mind that not all foldable tables open and close in the same way, but here is a general guide on how to help avoid personal injury:
How to open:
Lean the table against a solid wall. Ensure that the leg frames are one above the other.

Pull the top leg frame towards you and pivot the leg out, then press firmly on either end of the locking channel to fix the leg in place. DO NOT push on the centre of the locking channel, only the ends.

Slide the locking mechanism gently into place until you hear the faint click to confirm the table legs are locked in position. The locking tab MUST be engaged before the table is put into use.

Carefully lift the table onto its legs making sure all four feet are stable.
How to close:
Place the table on its side, or flat on the tabletop if this is more convenient for you.

Slide the latch to release the legs, then fold down each leg frame until they click back into their original folded position.
How to store:
Folding tables can be kept flat and stacked or upright against a wall on its edge if trolleys are not available. Round tables, because of their height and weight should always be stored upright.
The majority of tables are designed to be durable for frequent use with minimal maintenance. That isn't to say they shouldn't be scrutinised. Simple periodic inspections and maintenance are still required to ensure the safety of individuals who use them.
I'm guessing you're wondering, "How frequently do you have to check a folding table?" Maintenance should be performed at least once every three months or once every month if the table is used heavily. This establishes that your foldable tables are in good working order and will not injure your guests or employees. Even though these tables are made to endure rigorous use, there is still the risk that a fold-out table will develop a problem. Any defective tables should be removed immediately from use for repair.
Here are the main points to check:
Check that the leg folding mechanisms are in good working order and that all moving components are free of damage.

Inspect the area where the underframe meets the top, making sure all rivets are tight and the top is secure.

Review the edging for damage such as gouges and nicks which could cause damage to other surfaces and table cloths.

Observe the foot of the legs for sharp edges which could damage floors and any worn feet that may make the table unstable.

A single drop of light oil applied to all pivot points once every six months under normal working conditions, or every two months under heavy contract conditions, will keep the leg frames' folding motion in good shape.
How should I clean my folding tables?
Foldable tables like any other surface will accumulate dirt and grime from hands, food and drink and other sources, as will the underframe.
In every part of the world, hygiene is a key concern and no one wants to sit at a table that looks unclean. Follow these basic cleaning procedures to maintain the appearance of your table:
Cleaning:
Clean frames and surfaces using a damp cloth and if necessary, a light soap cleaning solution such as washing-up liquid.

Abrasive scourers should be avoided since they might scratch the tabletop and frame finish.

Using a dry soft or micro-fibre cloth will be effective in removing smudges and handprints.

On the underframe, a proprietary metal polish designed for chrome can be used to improve the look of old chrome.

DO NOT use bleach or any other caustic / solvent-based cleaner as this will cause permanent damage.
What should I do once I get my folding tables delivered?
The day has finally arrived after all your research and deliberation. Your new folding tables are here! This is the final and most crucial phase, so here are the last pointers to get you on the road to foldaway heaven:
Read the documentation before handling the tables to familiarise yourself with the correct way to lift, unfold and collapse the tables. Depending on the size and weight of the table, you may require more than one person to do this.
Don't rush, take your time to gently unpack the tables to avoid damage.
As you unfold the table, pay close attention to the mechanism to ensure it operates as expected and snaps securely into place.
Examine the frame for any deformations or cracks in the tube.
Check the table surface and edging for any scratches, nicks or imperfections.
Any tables with flaws should be noted and photographed. These should be taken out of service because they potentially compromise table stability and integrity, reporting the evidence to their supplier.
Make sure that all feet and stacking buffers are in place. Parts that are missing should be replaced. Failure to recognise this may result in damage to the table frames.
When the table is unfolded and on a level surface, check the table is stable and shows no sign of being uneven.
Once the above is complete, use the mechanism to release the leg frames and fold them back to their original state to store for use.
Get in touch if you'd like to find out more about any of our products