When you think of conference chairs your mind creates a picture of a fixed four-legged chair that looks like any other, but there are far more challenges and functional aspects that are considered in their design. Depending on the purpose of the chair or type of venue, conference chairs can have subtle differences to offer the solution required.

To help, we've compiled a guide with tips and tricks for finding the perfect conference chair for your needs.

Browse the full guide or choose on a quick link below
What is a conference chair?
A conference chair put simply, is a chair that is primarily designed for the purpose of conferences.
Some of the major advantages of using chairs designed for conferences are the add-ons that can enhance the chair's features. These can help make setting up for an event easier with the likes of chair clips that keep chairs in position, to providing attendees with a fold-out table to rest, work or write on. Also, they can be easily stacked and moved around, for them to be stored in an alcove or the corner of a room when not needed or cleaning is in progress.
There are so many features that are great for making guests more comfortable whether you're limited on space or have a grand meeting hall.
How do I know if I should buy a conference chair?
To know if you need conference chairs over other types you need to ask yourself four simple questions:
Will you regularly be setting up and down events for varying capacities?

Do you want the chairs to align and prevent them from being moved out of position?

Will your guests be seated for prolonged periods?

Do you require the seating to be numbered?
If the answer is yes to at least 3 of the 4 questions then the likelihood is you will be better suited with a range of conference chairs.
What to consider when buying a conference chair?
When considering what type of chair to buy that doesn't take up much room, "folding chairs" come to mind. However, they may well be easy to handle and seem like the most obvious option, but they have a number of significant drawbacks.
With any seat that folds or has moving parts, their lifespan is substantially reduced.

Comfort is not high on the agenda when they're designed as they need to fold as flat as possible, padding and lumbar support are often compromised.

When unfolding and folding chairs there's always the potential of personal injury as fingers can be trapped between folding components.

Even though the chairs fold relatively flat, you are still limited to how many can be carried safely, as they don't interlock like stacking chairs.
In comparison, a conference chair is created for durability and comfort with additional purpose-built features, like fold-out writing tablets to provide guests with a workspace for the day. With appropriate care, they can deliver for many, many years in a high-usage environment. Conference chairs are considered functional by design, as they fulfil their purpose above other options and are proven to improve the experience for guests.
When you do come to researching what conference chair to invest in, make sure you consider the below questions:
Features:

What conference-based options are available?

Style:

Can the chairs be customised to suit your interior or theme?

Weight:

What is the weight of a single chair?

Storage:

How many chairs can be stacked together?

Transport:

Are chair trolleys available with the range?

Durability:

What is the frame made of?

Dimensions:

Check the width and seat height are suitable?

Armrest:

Is the range available with or without?

Comfort:

What is the seat made from?

Back:

Does it provide lumbar support?

Colours:

What colours are available?

Material:

Are there options for different fabrics or mesh?

Cleaning:

How are the seats cleaned?

Trolley: Is a chair trolley available?
What are the advantages of conference chairs?
The advantage of investing in dedicated conference chairs is you know what to expect, comfort, quality and practicality. If they fail to deliver on any of these it should not be considered a conference chair.
Stacking, lightweight, durable with options to enhance the setting up process, as well as the guest's overall experience, should come as standard.
How many conference chairs do i need?
A good rule of thumb is that the width of the stage in feet is also the number of chairs in each row that can be comfortably seated in front of it. For example, a 20-foot-wide stage can seat 20 people in one row. Once you have the number of chairs in each row, you can look at the depth of the space you have available in front of the stage and then estimate the number of rows you can safely add with room for attendees to move. We recommend a minimum of 4 feet from the stage and a 2-foot space between rows.
With these two metrics, you can now work out the number of chairs needed for the space you have.
Space permitting, it's also a good idea to add chairs against some of the walls around your venue. This will provide overflow seating for individuals in larger conferences when there's not enough space around the main seating area. We recommend leaving at least 3 feet of walkway space around your main seating area to allow for ease of movement around the room.
What type of conference chairs do I need?
There are a number of different types of conference chairs that you might consider. At Burgess we recommend looking at either fixed four legged seats or cantilever for the base. Avoid chairs with wheels, or those that spin. The legs and frame of the chairs should be made of a lightweight metal alloy, stay away from wood which is heavy and easily damaged.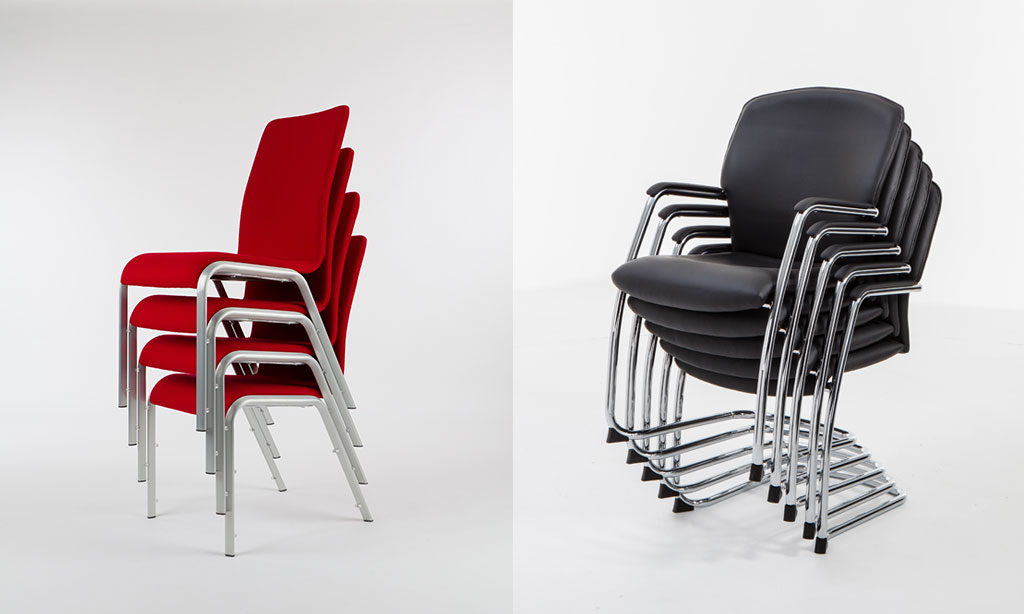 Fixed Four Legged Seats
To put it simply, a fixed four legged chair is a seat with four standard legs that are positioned in each of the four corners, to give maximum stability. The legs are fully integrated with the frame and commonly welded for strength and durability. Designed correctly they're perfect for stacking and transporting quickly.
Cantilever Seats
A cantilever chair, unlike a fixed four legged chair, is not supported in the conventional way, but instead they support the person's weight from just two legs at the front. This is achieved by the chair's frame being shaped in an L with a square base.
Not only do these chairs create a more dynamic look, they are very comfortable and have an entirely different feel to a fixed four legged chair. Almost creating a "floating" feeling when sat on. On top of this they also have the advantage of a better centre of gravity, which makes them harder to tip over. The disadvantages to cantilever chairs are, they are usually more heavy and you can't stack as many.

Which is better, stacking or nesting chairs for conferences?
Stacking chairs
Stacking chairs are, as the name suggests, chairs that can be stacked one on top of another. The advantage of this is you can store multiple chairs, sometimes up to as many as 10 chairs high. This greatly reduces your storage requirements as 10 stacked chairs still only take up the same amount of space as one. Have 100 chairs to store? Then you only need floor space for 10. 
Nesting chairs
Nesting chairs are similar to stacked chairs as they're created to save on space when they are not being used. Nesting chairs are designed to slot into each other, allowing an unlimited amount of chairs to nest together. To maximise storage and ease of movement they may fold and have wheels to push into place.
Which is better?
Stacking chairs have the distinct advantage when it comes to storing large numbers. Being able to store 100 chairs in the same space of 10 unstacked chairs, compared to the space needed for 100 nesting chairs makes it an easy decision.
What are the essential accessories for conference chairs?
The conference chair has come a long way since its inception in the 1970s. Today's purpose-built meeting chairs are far more comfortable and practical than ever before. Many styles also include a wide range of accessories for conferences and meetings, helping to solve common problems. 
Here are some of the essential accessories for any conference: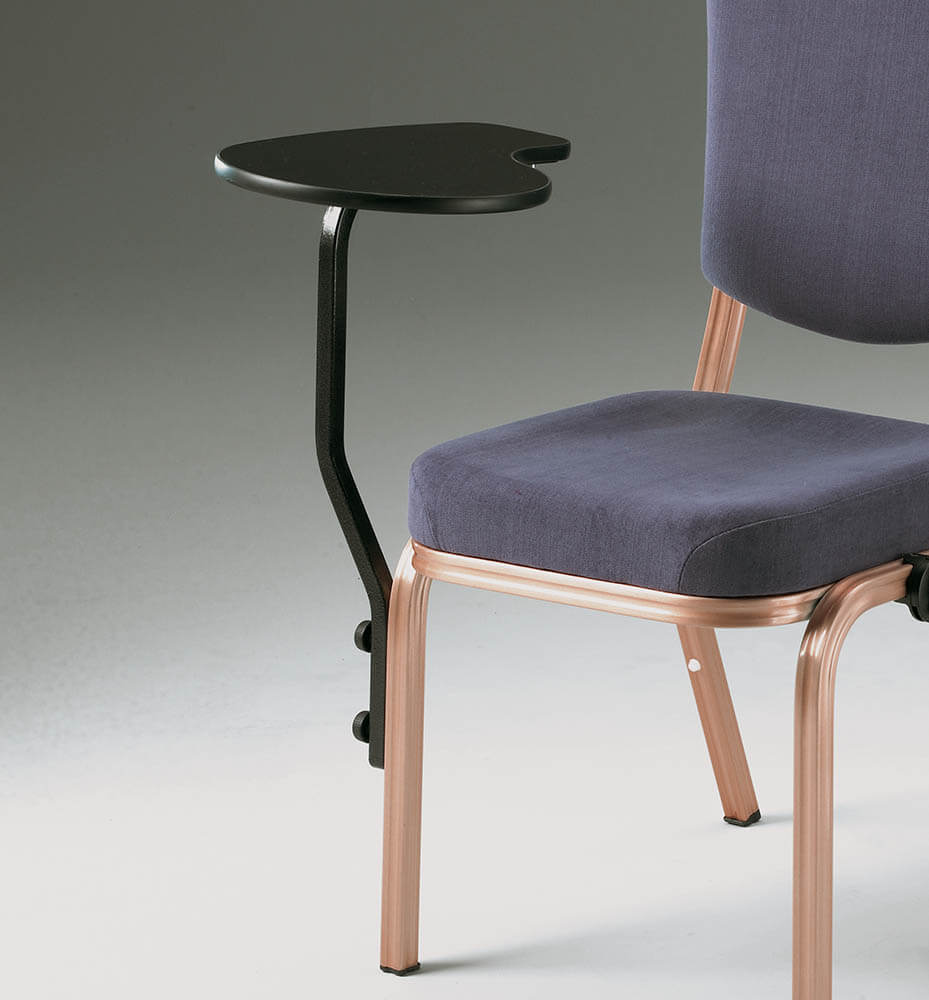 Tablet chairs
Conferences are about learning and many people like to take notes. Doing this on your lap or an uneven surface is not the best. Tablet armchairs are a great way to enhance your guests' experience, providing a stable and flat writing surface.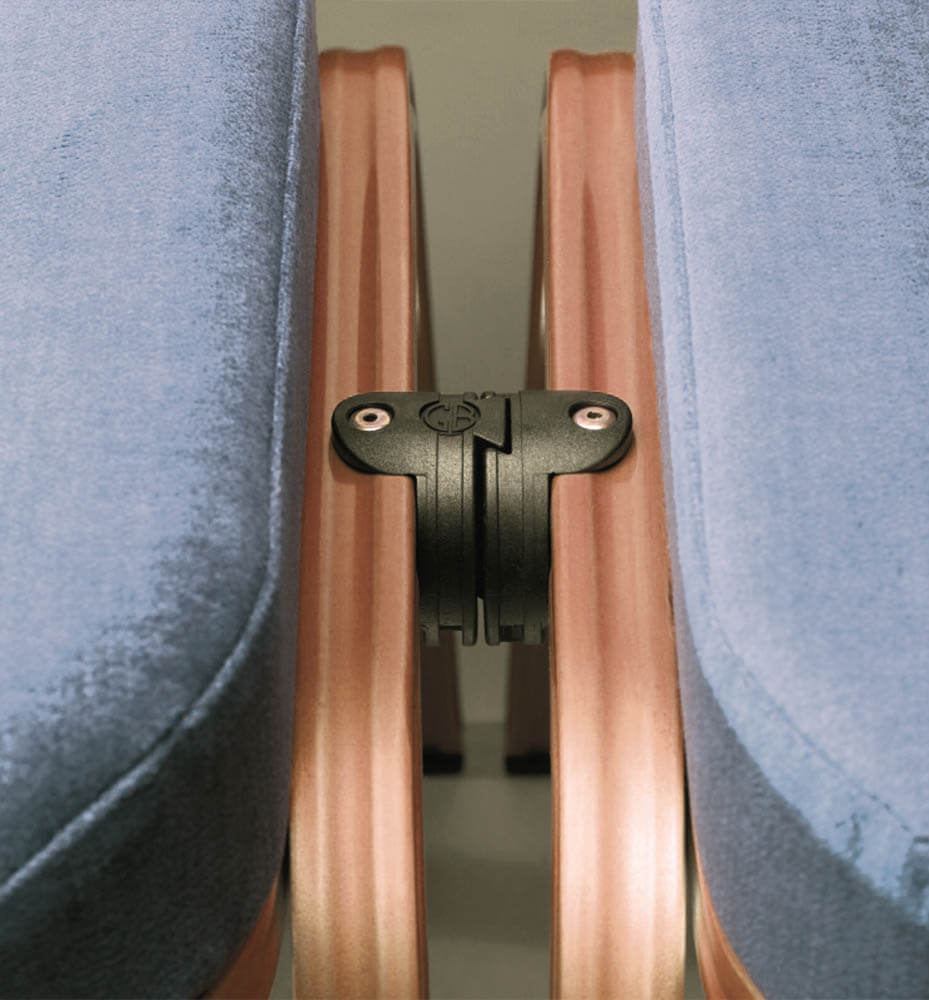 Chair links
At a conference or event it's important to maintain the configuration of the chairs. Chair links are the perfect way to keep the chairs connected and in rows. This will avoid guests moving chairs making the space look untidy and awkward for people to move around.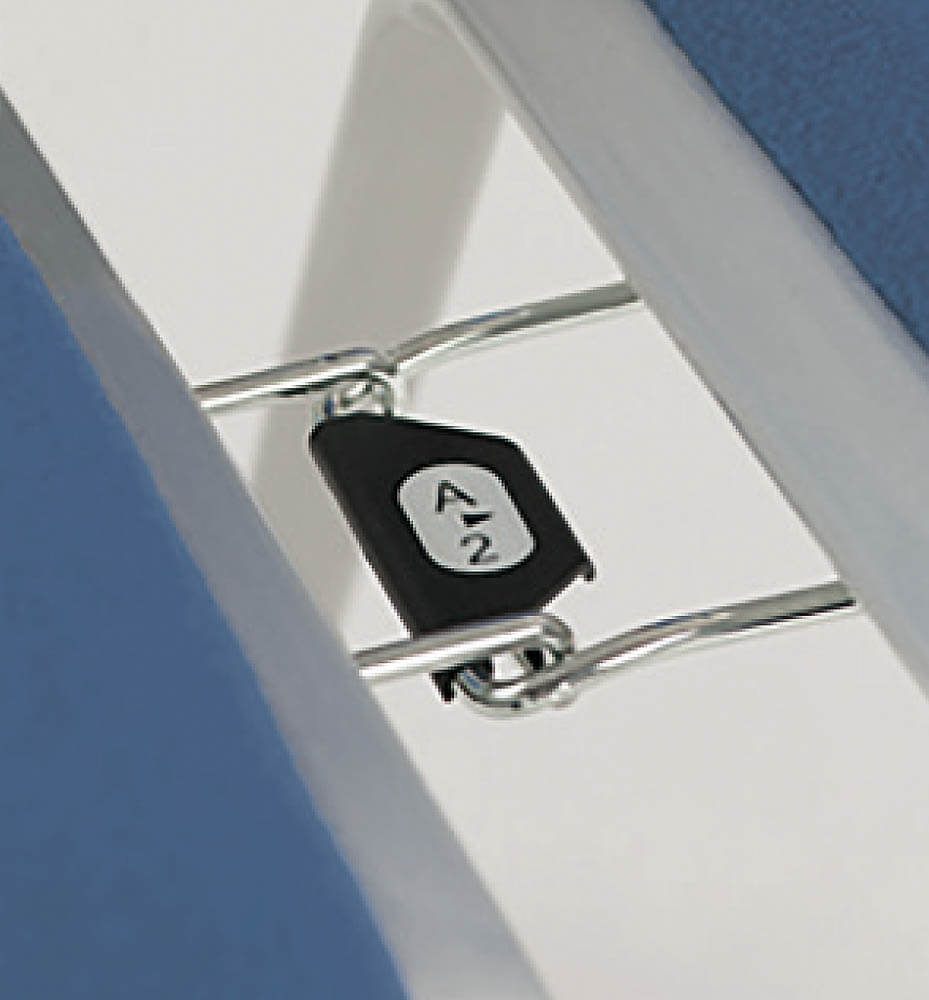 Number clips
Where allocated seating is required, number clips can be used to indicate seats numerically or alphabetically. They also serve the dual purpose of linking the chairs together to avoid them being moved out of sequence.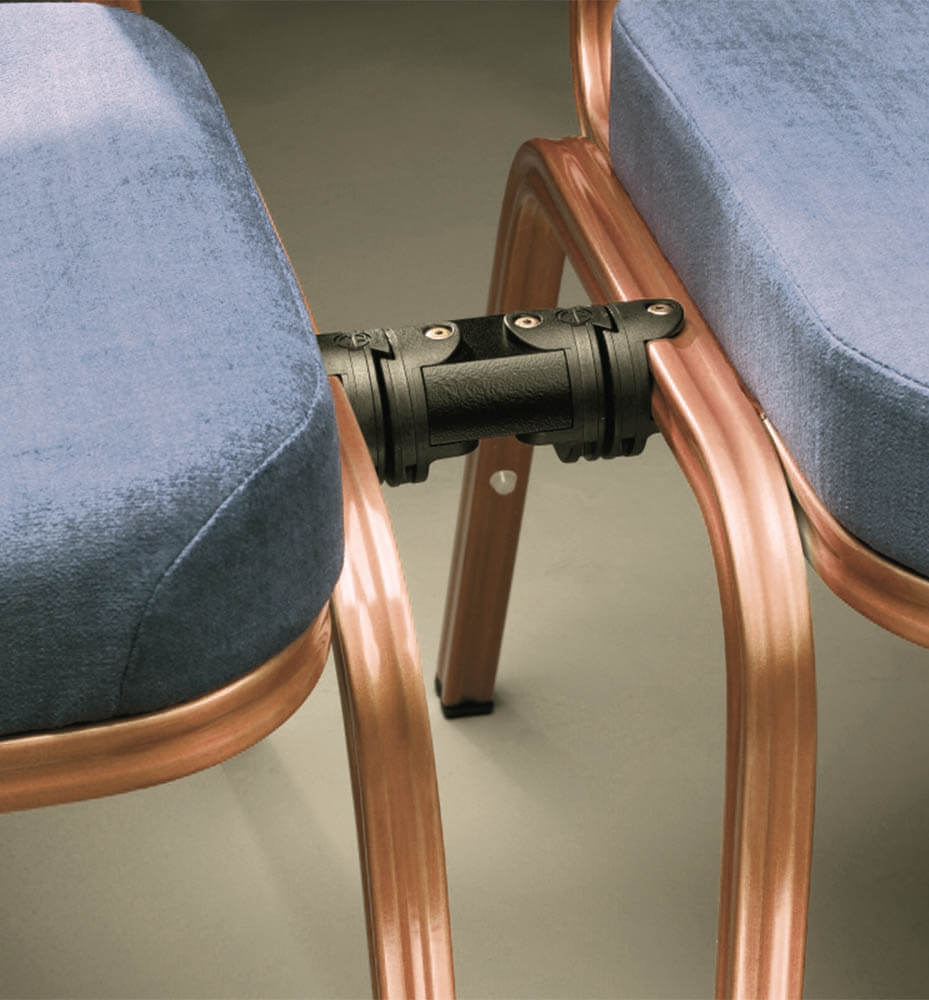 Spacers
When space allows it might be preferable for people's comfort to add some additional room between the seating. This can be accomplished with the use of spacer links that control the distance and keep the chairs in alignment. These spacers can usually be used on chairs with or without arms.
Spacer tablet
The spacer tablet sits neatly in between chairs, to add a rectangular surface to separate chairs. These are a great addition for conferences when people have beverages or water to avoid these ending up on the floor and being knocked over.
How to avoid damaging chairs and surroundings?
Moving large numbers of chairs around quickly can be hazardous if not handled correctly.
You should avoid dragging chairs, as not only could you damage the feet of the chair, but potentially the floor as well. Frequently doing this leads to the feet wearing, creating an uneven base. When seated the chair will feel unbalanced and possibly rock. To avoid this, conference chairs are designed to be lightweight for most people to be able to lift them easily and move.
To minimise the risk of damage to the chairs or floor, we recommend that chairs are transported using a suitable chair trolley. Chair trolleys make moving large numbers of chairs from room to room far easier, reducing time setting up and protecting your staff from carrying chairs through corridors or up and downstairs.
How to avoid personal injury when moving your conference chairs?
Using a chair trolley is the safest method of moving chairs. It will help avert accidental personal injury from lifting too many chairs that can over exert an individual's body or make them overbalance.
Conference chairs that are stackable should never be stacked more than the approved number. Stacking over this number will endanger yourself and others around you, risking the stack to lean and become unstable. It's important to make sure each chair sits correctly on top of the proceeding, not doing this will be unsafe.
How to transport your conference chairs safely without a chair trolley?
We know that not all venues will have chair trolleys, therefore, here are a number of tips to help:

Take the time to read the user manual. It will provide lifting techniques and best ways to handle the chair.

Lifting any chair should be done with care. The right technique will avoid injury.

When lifting, always bend at the knees, maintain a straight back and keep your head up.

Burgess chairs have lifting points on either side of the seat cushion. They may also have a top rail or hand hold to use when picking up.

Occasionally we can push our bodies too much. If the job of moving the chairs is excessive for one person, always ask for help rather than risk sustaining injury.
How to move your stacked conference chairs safely with a chair trolley?
Chair trolleys are designed to make moving stacked chairs easily. However, do not be complacent and risk rushing or carrying too many. Here are steps to keep safe:
Only stack chairs to the maximum number the manufacturer recommends.

After stacking the chairs, position the trolley behind them and line up the trough with the rear legs.

With one hand, tip the stack of chairs forward marginally to be able to push the trolley underneath with your other hand.

Slowly pull back on both the stack and trolley at the same time, keeping a firm grip on the stack. You can now move the stack.

When manoeuvring the trolley avoid sudden movements. Move slowly and maintain control at all times.
Take the time before you start moving the chairs to walk the route you'll be using. Doing so will help to work out the safest path. Remember the shortest is not always the quickest.

When walking the route, look to move any obstructions out the way.

Chair trolleys are not designed for going up and down stairs. Never attempt to use a stacked chair trolley on a staircase.

Be mindful to bypass any areas where the floor drops away steeply or inclines at a great degree. Walking the route as suggested above will ensure you're prepared.
Conference chairs are designed for longevity and require little maintenance. That said, chairs should still be checked periodically for damage or issues that may compromise their use.
How often these checks should be done, really depends on how you use your meeting chairs. We recommend checks are carried out every 3 months when only used periodically, or if they're in frequent use every month. Damage can be sustained at any time when moving chairs or during an event and could quite easily escape unnoticed. Performing regular checks will help protect your guest from injury.
When checking your chair inventory here are the main issues to look out for:
Bends or deformities in the chair frame

Cracks in the welds and joints

Any screws are still secure and present

Check the feet for wear and damage to avoid the seat rocking

Make sure stacking buffers are still in place

Look over the fabric for tears

Any additional accessories are firmly attached
How should I clean my conference chairs?
Chairs are exposed to dirt, drinks, food, germs and more, so it's essential to regularly clean them.
Not maintaining clean seats will give a poor impression to guests. To help keep your chairs looking good here are some cleaning tips:
Cleaning frames:
Use a mild soap cleaning agent with a damp cloth to wipe down frames.

Never use abrasive scourers, these can damage the frame finish.

For smudges and handprints these can be easily removed with a dry soft cloth;  we recommend micro-fibre cloths.

Old chrome can be refreshed with a proprietary metal polish that is suitable for chrome.
Cleaning fabrics:
Firstly, vacuum the fabric surfaces to remove loose dirt.

To clean the fabric you can use a commercial fabric cleaner. Important note: Before applying, test on a discreet area of fabric to check colour-fastness.

NEVER use bleach or any caustic / solvent based cleaner, this could permanently damage the finish and upholstery.


However, there are fabrics that can sustain more intensive cleaning methods. We always recommend contacting the manufacturer if you require more powerful methods to clean the fabric.
What should I do once I get my conference chairs delivered?
When your brand new chairs are delivered, you still have work to do. It's important to make sure your inventory is checked over to avoid any nasty surprises. Here's a checklist to help:
Remove the packaging carefully to prevent damaging the chairs in your eagerness to see them.

Scan over the frames and fabric to look for any defects.

Record with photos any chairs that have bent legs. Any that have sustained a bend should be taken out of service. Inform the manufacturer or supplier of the issues immediately.

Any screws that can be seen should be checked to make sure they are securely in place and not loose. Upholstery and cushions should also be firmly fitted.

On all the legs check the feet are in place and stacking buffers are present. Any missing components should be reported and replaced. If these are missing and not spotted, it could result in damaging the chair frames when they're used or stored.

Ensure any additional items like writing tablets, links etc. are well fitted and secure.
Get in touch if you'd like to find out more about any of our products