The festive TV ads have made an appearance.
Shops are starting to sell the usual baubles and tinsel. And hotels across the UK are gearing up for the "most magical time of the year".
Yes, Christmas is just around the corner. If your venue is planning to host festive events and celebrations, have you got everything you need for the party season?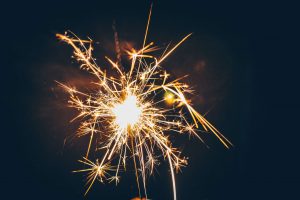 Save space
At Burgess, we design and manufacture a whole host of hospitality furniture to suit every need. It's our job to anticipate all possible scenarios, so you can accommodate every hotel guest in comfort and style. From office Christmas parties and corporate ceremonies to more intimate gatherings – we have high-quality tables, chairs, soft seating and accessories in a range of options.
And if you're tight on space, our cleverly designed pieces fold or store away efficiently. Take our space-saving A-Fold range, for example. Portable, elegant and robust, it's quick to install and fold down thanks to its unique folding mechanism that secures the legs flat against the table top for minimal storage space.
Then there's Adamas, inspired by our much-loved Turini stacking chair and reinvented to mark our 60th anniversary. It has all the features you know and love, along with a new AirComfort ergonomic seat cushion, and can be easily and efficiently stored – helping you to save on space.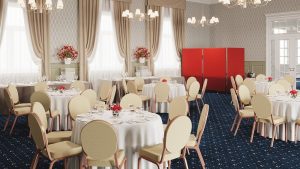 Move easy
Did you know we could also provide table and chair trolleys to take the strain out of moving and storing your hospitality furniture? Easy to handle and specifically made for our furniture ranges, our trolleys allow you to make quick room changes and get safely set up, ensuring the health and safety of all your staff.
Throw some shapes
For the bigger parties, have you thought about a dancefloor? At Burgess, our dancefloors are hardwearing and durable, available in a choice of three different wood or three stone effect panels. Laid in a brickwork pattern of interlocking panels, they are quick and easy to install and will stay in place all night.
Time for food
Might you be hosting a buffet? Our Buffet Cube range uses an ingenious method of folding under frames (again, for easy storage), and the option of either a high-pressure laminate or toughened glass top to present your food in a safe and appetising way. Choose from round, oval, square or rectangular designs and add visual interest with different table heights.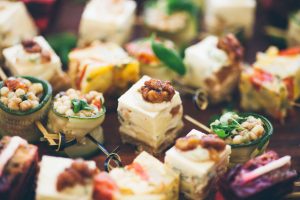 And… relax
And what about dedicated lounge areas where your guests can relax? A place for them to sit back and rest after a good dance? Walsh is one of our show-stopping chairs. Available in low or high back styles, this modern classic design with gentle contours and outstanding comfort will add a height of sophistication to your event. Or for something a little more laidback, our Smart Qube® range features contemporary benches and stools where guests can even charge their smartphones should they wish to.
Whatever you have in store for Christmas, we guarantee that Burgess has the furniture to suit. Call our expert team to find out more → 0330 333 9258