Setting up a room for an event or conference can take time – but that doesn't mean it should take a lot of effort too.
Table and chair trolleys are designed to take the strain out of moving and storing your furniture, so you can make quick room changes and get safely set up in as little time as possible.
Burgess table and chair trolleys are easy to handle and are specifically made for our furniture ranges.
Your tables and chairs will be properly stored and carried to minimise the risk of damage and can easily be wheeled into place for employee health and safety peace of mind.
Here's how the Burgess table and chair trolleys stack up, so you can learn more about the benefits:
Chair Trolleys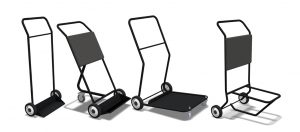 Burgess chair trolleys are available in six different configurations, to match all the chairs in our range and how you'd like to transport them.
Our extensive chair trolley options include:
A choice of two-, three- or four-wheel designs for ease of use
Back rail trolleys for chairs with low backs or for transporting chair stacks under the rear legs
Load-bearing trolleys for stacked chairs complete with retaining straps (CTH/4 model) to keep stack secure
Padded panel trolleys for transporting mesh-backed chairs
Loop-front trolleys for our Evosa ranges
Lightweight – from 8.2kg to 12.5kg
Slimfold™ Table Trolleys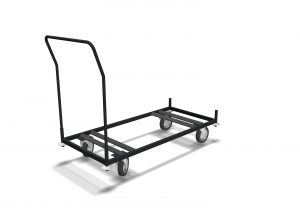 Our Slimfold™ trolleys are specifically designed to carry and store tables from the Slimfold™ range. They also include corner buffers to protect doors and walls when moving them around and have casters with brakes to ensure they stay put.
There are two different trolley options to suit your storage preference:
Slimfold™ Multipurpose Trolley: This trolley is designed to store round or rectangle Slimfold™ tables on their edge. The trolley can store a mix of both types of tables at once and is split into three sections for easy loading and support.
Slimfold™ Trolley for flat tables: This trolley stows up to 10 rectangular tables folded flat and stored horizontally. It is available in different sizes to match the Slimfold size range for a perfect fit.
A-Fold, Configure-8 and System-C Table Trolleys

Our range of table trolleys suited for the A-Fold, Configure-8 and System-C collections can stow up to eight rectangular tables at once. The trolleys include corner buffers and castor wheels with brakes for ease of transportation.
With different sizes of trolley to suit the stored table size, there's a trolley solution for every type of table we make including round designs. The round-table trolley for the A-Fold will safely stack 6 or 10 tables and features a folding ramp for stress-free loading and unloading.
Find out more about Burgess table and chair trolleys
Download our trolley brochures to explore the best options for your conference and event needs or talk to our team for expert advice.