That's a wrap on 2019!
As we come to the end of another fantastic year for Burgess Furniture, we wanted to take a closer look at some of 2019's highlights: the events we've attended, the products we've launched and the best projects we've been involved with.
60th Anniversary
It was the year that marked our 60th anniversary and to celebrate, we introduced Adamas, an ergonomic take on our classic Turini design – the very piece that started the Burgess story. Designed by Peter Roth, it has all the quality features you'd expect but includes a uniquely designed, FIRA-approved AirComfort ergonomic seat cushion.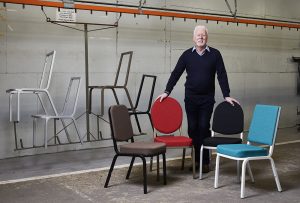 Bedroom Range
The party didn't stop there. We also launched our first-ever bedroom range, which featured five new chairs named after our staff – Walsh (in High back or Low back), Yorath, Viram, and Ryall. Kevin Walsh, our Machine Shop Manager, is one of the honoured employees. "I began my Burgess career as an apprentice back in 1983," says Kevin. "It's such an honour to have a chair named after me, and both my sons, one of whom also works here."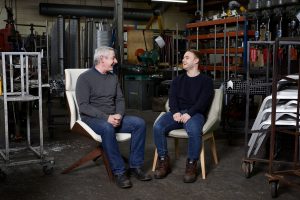 Coffee Tables
Later on, we extended our new bedroom range and unveiled TriSmart and A-Cross – two innovative and compact coffee tables, designed to maximise practicality without compromising on space.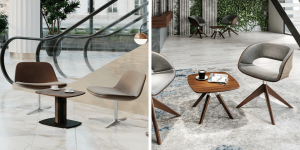 Partition screens and our first sofa
Towards the end of 2019, we revealed SpiltScreen and 360 Divide, a contemporary range of screens to add privacy or divide space in larger rooms. And we went out with a bang, announcing our first ever sofa, styled on our popular Junea chair range. The Junea Sofa is an elegant two-seater sofa that looks just as good in a hotel lobby and breakout area as it does in a bedroom as a standalone piece.

Events galore
For design inspiration and to tell the world about our new ranges, we travelled the world – from Hotex in Asia and Affaccor in France to BCFA Open in Dublin and ProAchat in Malta. We also proudly debuted our bedroom range at Clerkenwell Design Week in May and exhibited some of our latest products at Sleep & Eat in November.
Burgess in the most prestigious venues
What's more, we've seen our furniture in some of the world's biggest hotels, event spaces and business centres. From the ICC Wales to the largest conference centre in the UK, we even featured in Le Grand Hotel Dieu – an award-winning hotel designed by Jean-Philippe Nuel.
2020 and beyond
It feels like we haven't stopped, and 2020 is already promising to be an exciting year. As we approach the beginning of a new decade, we wanted to take this opportunity to wish all our staff, colleagues, suppliers and clients a very Merry Christmas and a prosperous New Year. Stay tuned to our blog or sign up to our newsletter to hear about the new products we already have planned for next year.