This ultimate guide aims to answer every question you may have about stacking chairs, from the basic, to the advanced, what to do and how to do it. You'll be surprised to see how much there is to know about stacking chairs. It's like Doctor Who's Tardis, doesn't look like much, but when you need it they can offer so much more.
Here we take a look at the different types of chairs, including the maintenance, how to handle them, the advantages, disadvantages, as well as the option to consider when buying a stacking chair for your venue or business.
Browse the full guide or choose on a quick link below
What is a stacking chair?
A stacking chair put simply, is a chair that can stack on top of each other.
One of the major advantages to using stacking chairs is that they are easily stacked, so they can be stored in a very small space, like a boxroom, alcove or recess.
How do I know if I should buy a stacking chair?
If you find that you're constantly moving chairs around to make space, then you need stacking chairs. It's the perfect solution to a very simple problem when it comes to creating space or providing more or less people with a comfortable chair.
What to consider when buying a stacking chair?
When thinking about what type of chair to buy that doesn't take up much room, "folding chairs" come to mind.
Folding chairs are great for storage and transporting around, but they're not usually designed to last for very long with regular usage. A stacking chair in comparison is created with durability and comfort as it's fundamental purpose. With the proper care they can be used for many, many years in a high usage environment. Stacking chairs could be considered heavy duty chairs by design, but what makes them so usable is how light and easy they are to handle.
Shopping for a stacking chair is not the most difficult thing to do. But there are some basic things you should look out for.
Here are some key things you should look out for when buying a stacking chair:
Features: Are there any extra features? Options with or without arms? Can a tablet table be attached?
Style: As well as being functional, is it comfortable and does it match the interior of your venue?
Weight: What is the weight of the chair?
Durability: What is the frame made of?
Leg height: Are the legs high enough?
Arm height: Are the arm pieces high enough?
Colours: What colours are available?
Fabric: Can I choose the fabric?
Trolley: Is a chair trolley available?
What are the advantages of stacking chairs?
There are many advantages to buying stacking chairs for your venue or business. They are a great way to maximise space when they're not required. Stacking is neat and even having them in a corner of the room looks tidy. Multiple chairs when stacked only take the same space as one chair, relinquishing valuable floor space. When cleaning it makes the process quicker and easier, whilst also limiting the possibility of damage when moving chairs out the way.
Designs are focused on comfort, with some offering additional lumbar support. With the majority of stacking chairs you can purchase trolleys or carts to move multiple chairs around easily and safely. Making it quicker to set up events and conferences.
Regarding styling, the look and feel of the chairs can be customised to suit your interior or match existing furniture. The options for upholstery offer almost unlimited colours, textures and more. The frames can also be customised in a variety of finishes.
Can I Stack Different Types Of Stacking Chair on Top of Other Stacking Chairs?
Stacking different types of chair on top of each other is not advised as you may damage the frames. Also stacking multiple chairs of different types can be unstable and lean to one side, which could be a hazard and cause injury.
What are the drawbacks of stacking chairs?
For these chairs to neatly stack, the chairs have to be rigid. Therefore, unlike other chairs you aren't able to adjust the seating position or height. However, with mechanical moving features they can often break resulting in additional costs to repair or replace them.
Stacking chairs aren't as easy to move around as furniture with castors. That said, as with the mechanical features, wheels can easily fall off or break.
Where can I buy stacking chairs?
Depending on the usage will determine where best to source your stacking chairs. There's a wide supplier base that provide these types of chairs, so it's important to not only find the right chair, but also the right supplier as they often specialise by industry.
We always recommend seeing the chair in-person before making a purchase, to test comfort and quality. At Burgess Furniture we have a showroom dedicated to our ranges and you're more than welcome to visit this anytime. Just contact us to book an appointment.
How to stack non-stackable chairs?
Chairs that are not manufactured to stack by design, should never be attempted. The reason being, stacking chairs are developed to provide a secure method for each chair to rest securely on top of the proceeding one. This allows you to stack multiple chairs safely.
Attempting to do this with chairs not designed to stack, is not only dangerous as the weight will be unevenly distributed, but it will more than likely damage the chairs.
How to avoid damaging chairs and surroundings?
Moving a large number of chairs about as quickly as possible can be hazardous if not handled correctly.
Stacked chairs should never be dragged, as not only could you damage the feet of the chair but potentially the floor as well. These chairs are lightweight, making them easily lifted and carried.
To help minimise the risk of damage to the chairs or flooring, we recommend that chairs are transported using a chair trolley. Chair trolleys make transporting stacks from storage to a venue or room far easier, reducing time setting up and protecting your staff from carrying chairs through corridors or up and down stairs.
How to avoid personal injury when moving your stacking chairs?
To minimise the risk of personal injury and potential damage to the chairs you're transporting, we recommend that chairs are transported using a chair trolley.
By using a chair trolley with stacked chairs you can balance the weight and make sure that you are staying safe. This will help avoid unnecessary personal injury from carrying too many chairs that may place stress on an individual's body or cause them to overbalance.
When stacking the chairs, make sure you're never stacking more than the recommended number. Over stacking can be dangerous and risk the trolley tipping as the stack will become top heavy. Ensure when placing the chairs on top of each other they are aligned correctly and not placed at an angle.
How to transport your stacking chairs safely without a chair trolley?
We appreciate not everyone will have access to chair trolleys, therefore, here are some useful tips to help:
Always read the manual on how to handle the chair and lifting technique.

Using the correct technique helps to make sure that you're not going to injure yourself when lifting any chairs.

Ensure you bend at the knees, keep your back straight and your head up.

If you have Burgess chairs you can use the lifting points shown on either side of the seat cushion, and/or the top rail hand hold (where specified).

Always remember, if you feel the task is too much for you to do alone, you should seek assistance rather than risk injury.
How to move stacked chairs safely with a chair trolley?
It may sound simple to use a chair trolley, but you should pay careful attention when using them to avoid accidents. Follow these steps:
Once stacked, move into position directly behind and align the trough of the trolley with the rear legs of the stack.

Using one hand, tilt the stack forward slightly to allow the trolley to be pushed underneath with the other hand.

Carefully pull back on the stack and trolley simultaneously, maintaining the grip on the stack. The stack can now be moved.

When moving the trolley do not move too quickly or via around corners.
Walk the path you wish to take before wheeling the stacked trolley. This will help you avoid awkward situations and save time.

Ensure the path is clear of obstructions prior to moving the trolley

Avoid stairs. It is not recommended to use a stacked trolley going up or down stairs.

Be wary of steep inclines or when the floor declines. Walking this prior to moving the stacks as mentioned above will provide you with an early warning.
Most products are designed to give a long, trouble free working life-span with the minimum amount of maintenance. However, that doesn't mean they should not be checked. There is still a requirement to carry out simple periodic inspections and maintenance to safeguard those sitting on them.
But I bet you're asking well "How often do you have to do maintenance on a stacking chair?" We suggest maintenance should be carried out at least every 3 months, or every 1 month under extremely heavy usage. This is to just make sure your chairs are not broken or going to cause injury to your guests. As much as these products are built to last, unfortunately there is always the possibility of a chair developing an issue.
How should I clean my chairs?
Chairs get dirty, plain and simple. At home, work, conferences alike. No matter how and where dirt will gather.
Hygiene is a major concern in every corner of the globe and no one wants to sit on a grubby looking seat. To assist you with keeping your chairs in good condition keep to these simple cleaning regimes:
Cleaning frames:
Frames should be cleaned using a damp cloth and, where necessary, a mild soap cleaning agent like washing up liquid.

Avoid using abrasive scourers as this may damage the frame finish.

Smudges and handprints can be removed using a dry soft cloth; micro-fibre cloths are particularly effective for this.

Improving the appearance of old chrome can be achieved by using a proprietary metal polish suitable for chrome.
Cleaning fabrics:
Before cleaning the fabric make sure to vacuum the surfaces to get rid of any crumbs, fluff or debris.

Fabrics can be cleaned using any commercially available fabric cleaner. However, always test on a hidden area of fabric first to check colour-fastness.

It may go without saying (but we will say it anyway) DO NOT use bleach or any other caustic / solvent based cleaner as it could permanently cause damage to the finish and upholstery.

Some fabrics may allow more rigorous cleaning methods but we recommend always checking with the manufacturer if stronger methods are needed.
Did you know there are 2 types of stacking chair?
When you think of a stacking chair, not many people realise there are actually 2 types. They fall into two categories. "Frame Stacking", where the chairs stack leg-over-leg and "Seat Stacking" where the chairs stack seat-on-seat.
Frame stacking chairs are distinguished by plastic stacking buffers fitted to the inside faces of the legs. The protects damaging the frame from the metal rubbing together.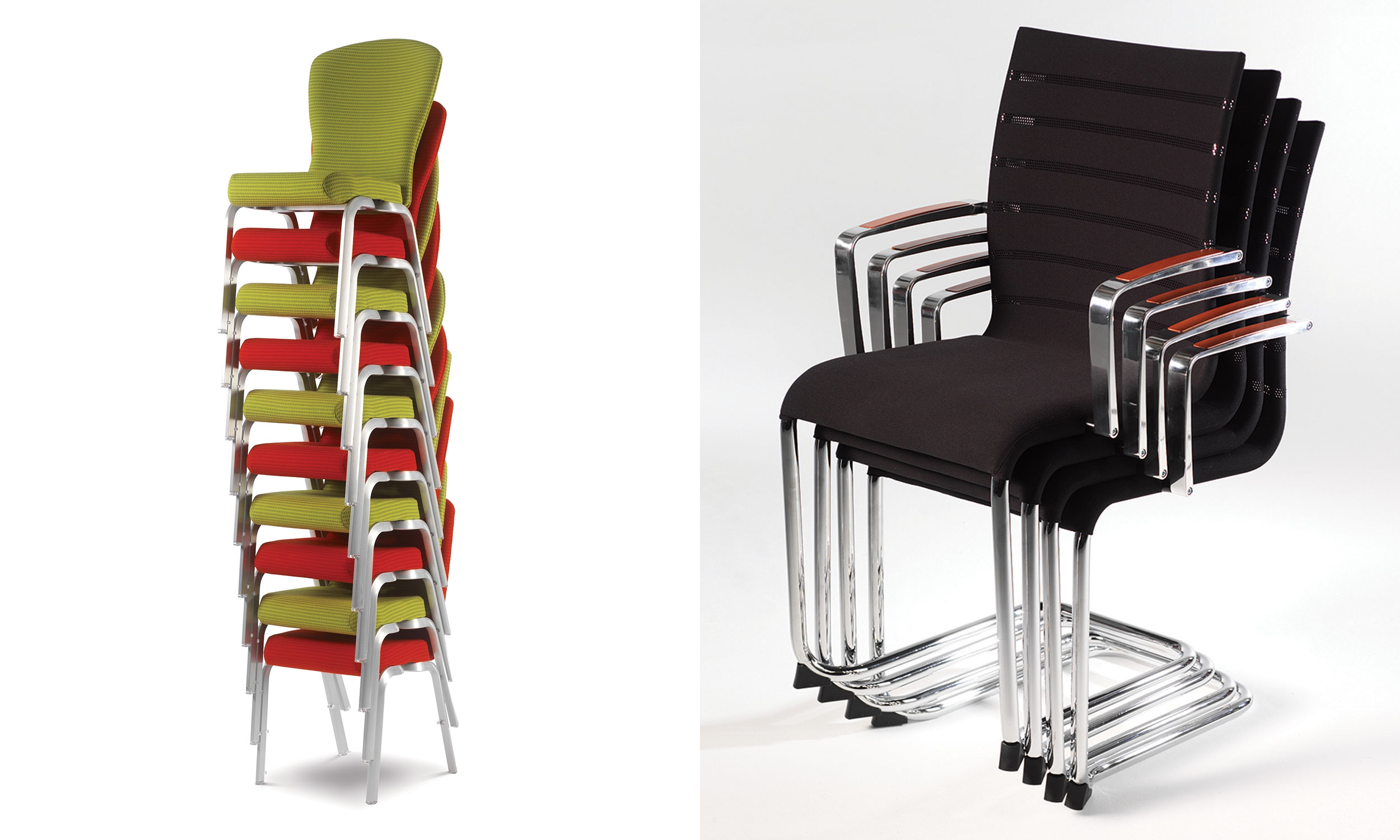 Benefits of frame stacking:
Frame stacking chairs have special features built into the frame, which not only offers safe stacking but added protection for each chair's fabric, too.
design features in the frame such as stacking buffers – those tiny buttons you may spot on the chair legs – the only contact between each stacked chair is the frame itself.
Frame stacking is great when you select a soft pile or delicate upholstery, like velvet.
Benefits of seat stacking:
The biggest advantage of seat stacking is the clean, sleek look it allows
A great choice if you're not a fan of stacking buffers.
The seat cushion of a seat stacking chair also stretches to the edge of the seat, minimising visible frame.
With seat stacking chairs you simply stack the chair directly on the seat of the chair below.
Seat stacking chairs are designed a certain way, to ensure that the stack remains stable at all times
What should I do once I get my stacking chairs delivered?
The day has arrived for your new chairs to be delivered. After all the research and decision making, the day has come. But it's not over yet. Taking delivery is probably the most important final phase, so here are our last tips to set you on your way to stacking chair heaven:
Unpack the chairs carefully to avoid damage in your haste to see the chairs.
Inspect the frame looking for any deformity or cracks in the tube.
Note and document any chairs with bent legs with photos. These should be removed from service as this can affect stability and frame integrity. Report these to the supplier.
Check all visible screws are in place and that the upholstered cushions are firmly fitted.
Ensure all feet and stacking buffers are in place. Missing parts should be replaced. Not identifying this can result in damage to the chair frames.
Check that any ancillary items (i.e. writing tablets, links etc.) are fitted correctly and secure.
Get in touch if you'd like to find out more about any of our products