Having been starved of events and not going out for longer than we care to remember. We're extremely excited to be exhibiting at our first event for quite some time. Showcasing at London's Business Design Centre this November, you'll have access to an event ladened with trusted hospitality brands with global experience. HIX is a new dedicated hotel event, set to bring the hotel community together, supporting your business and helping to rebuild the hospitality industry.
What is HIX? I hear you ask
Firstly, the most important thing to know is it's a free event, which we all like to hear. Secondly, it's a no-brainer for anyone in hospitality to attend – if you're not sure if this is right for you, take a look at the full list of who should attend. HIX is a highly focused industry event for hotel professionals aiming to inspire and help you create the best guest experience in very challenging times.
At HIX, you'll be able to share and gather valuable insights on trends, services, interiors, technology, hygiene, furniture and more. Meeting the brands that are the heart of industry.
An opportunity not to be missed
With so many changes in the hotel industry it's even more important to see who's doing what and get a feeling of how the future looks.
Every sector related to hospitality is being challenged to make changes. Some early changes were knee-jerk reactions that have proven to be costly investments. While others that have been more considered, are helping hotels to adjust and encourage visitors back. At HIX you can find out about these changes and how they are gradually building visitor confidence. This is your chance to listen to the challenges others have faced and the solutions they've discovered.
Burgess makes a stand
As specialists in hospitality furniture, we're proud to be one of the founding partners of an event that will help hotels create their own unique guest experience. We're keen to assist you with this vision and we've got a fantastic stand that we're looking forward to showing you, with products you can once again see and feel first hand. As a sneak-peek, here's the concept for our stand.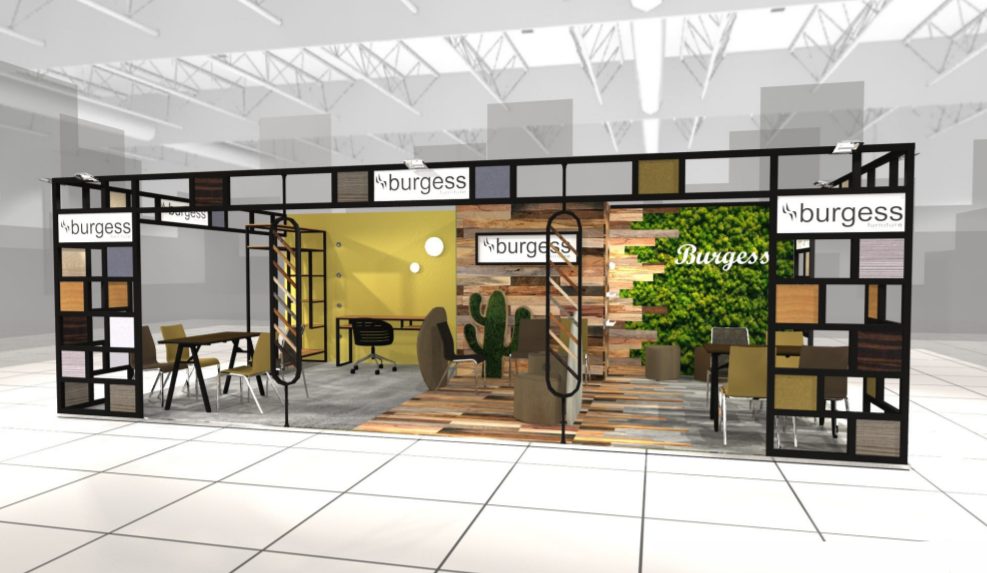 On display at the event, we've carefully selected a range of hospitality furniture that are perfect for hotel lobbies, ballrooms, function rooms, conferences, meeting rooms and bedrooms. Many of these items can be seen in some of the world's most luxurious venues.
In addition to our existing and established product ranges, we'll also be launching two new products at the event. The first is a chair that we've named after one of our long-standing team members (25 years of service in fact). We like to celebrate the loyalty of our valued members by naming a product after them and this time it's the Enrica.
The Enrica desk chair is the perfect accompaniment to a luxurious hotel bedroom. The Enrica comes with 3 shell options, 6 bases and your choice of fabric to match your hotel room aesthetic.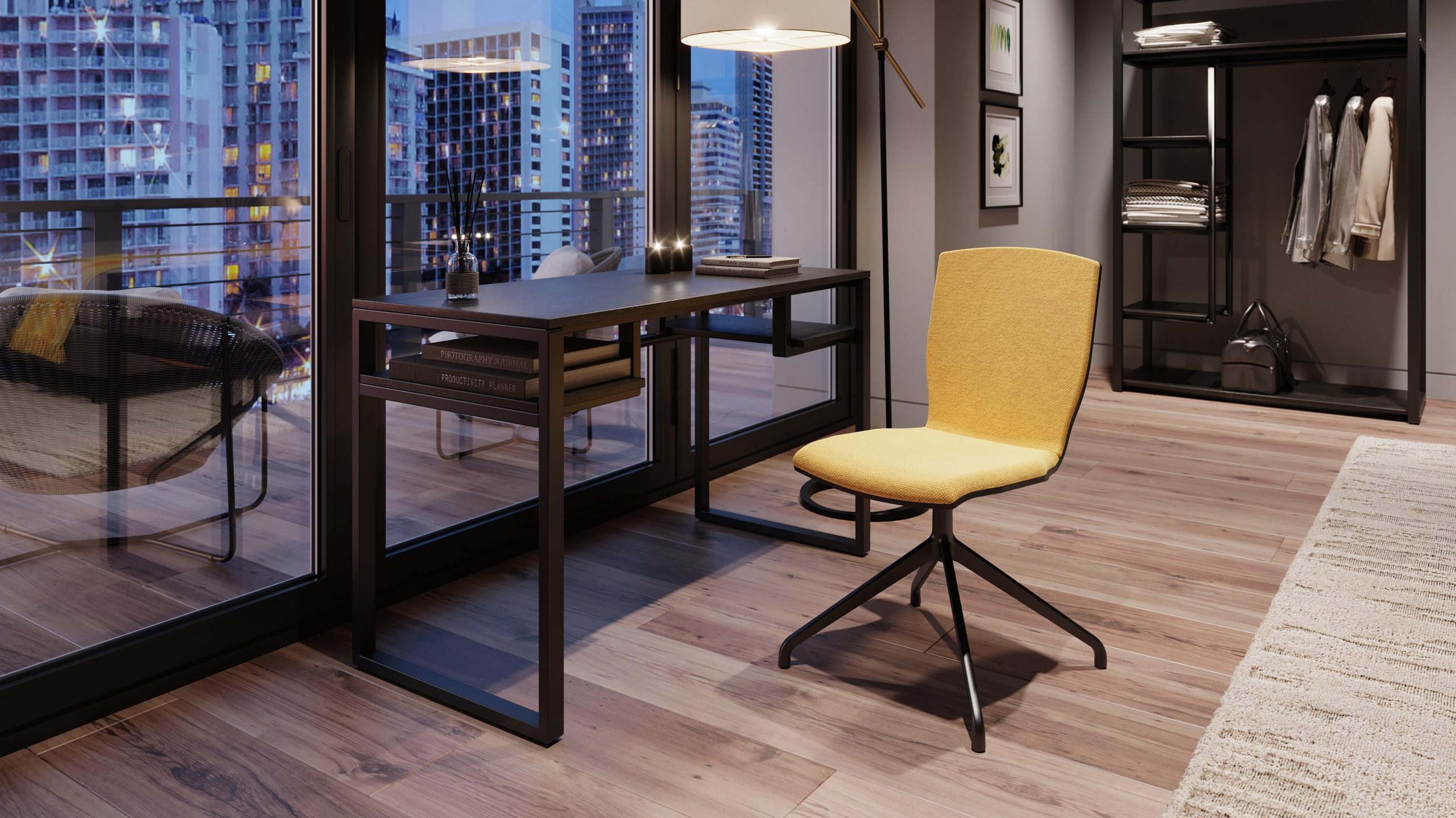 The second, is a new range of contemporary bedroom furniture which we've called Open Concept. The collection features an open wardrobe, desk, coffee table and side table.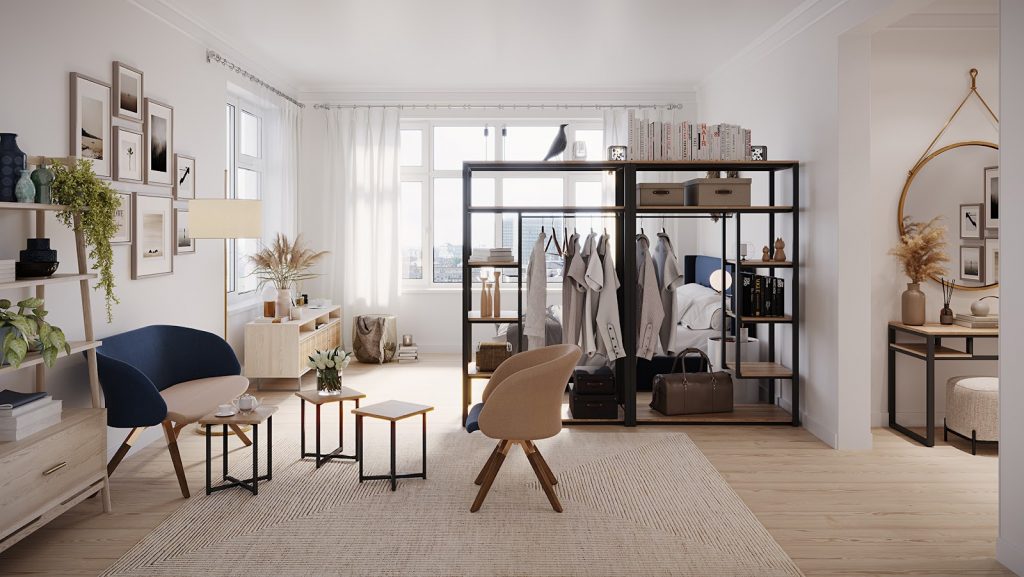 With recent events, our designers were inspired to create a range that compliments the industry's efforts to improve ventilation, air flow and to allow more light to penetrate further into rooms to create a more pleasant, brighter space. On top of this, we wanted to address some of the issues of contaminated surfaces that can be a risk to guests. As wardrobe doors and handles are constantly touched the concept of removing these will eliminate a significant hotspot for germs to spread. Another bonus is there's less maintenance, as repairing doors hinges and handles will be a thing of the past.
The stand out performer
Unlike many other hospitality furniture providers we design, manufacture and deliver from our London HQ and factory. This allows us to maintain the highest standards as a commercial furniture provider, and as we have control over the whole process, we can even add those unique touches should you be looking for something special.
On the day, you'll be welcomed on to our stand by members of our Senior Sales team that know every stitch of our ranges. The team will be able to help you find the perfect furniture pieces for your space. To help pick them out of crowds descending on our stand, here are the Burgess faces you'll be looking for.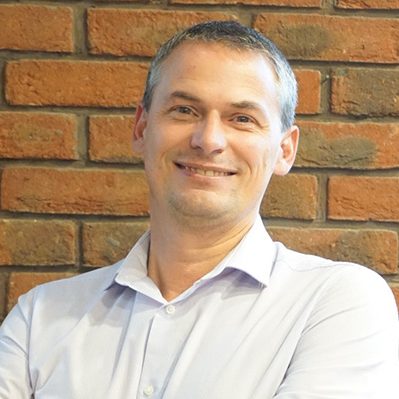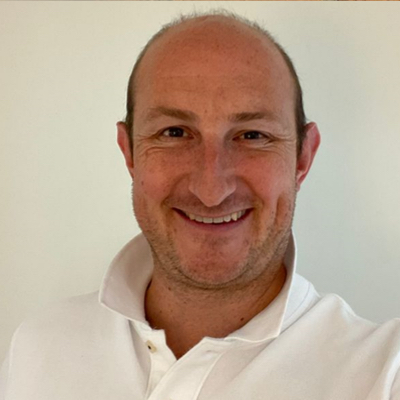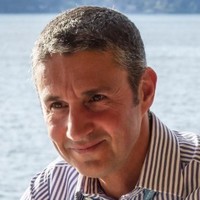 Register for your free ticket here and come along to see us on stand 10 to take a load off while getting a feel of the Burgess experience.