As the festive season approaches, we begin to turn our attention to Christmas decorations. It's easy to be tempted into buying the latest on-trend decorations for your show-stopping Christmas display. However, along with the glitz and glam of the holiday season comes the dark side of Christmas decorations and their impact on our environment.
Each year in the UK, we throw away over 9,000 tonnes of Christmas trees alone. 1
We only recycle roughly a sixth of all Christmas trees bought 1
If it ends up in a landfill, a 2-metre-tall real Christmas tree will have a carbon footprint of 16 kg CO2. An equivalent artificial tree has a carbon footprint of 40 kg CO2 – and typically cannot be recycled either. 2
14% of people will even be binning their fake Christmas tree in any given year. 2
Brit's bin 108 million rolls of wrapping paper each year, with the vast majority of this paper being non-recyclable, as a lot will contain plastic from either glitter or laminates. 2
Candles look attractive once lit, but they emit ultrafine particles, which can be harmful. Particularly when it comes to scented candles and the volatile organic compounds (VOCs) that they release.3
With all this waste on the Christmas horizon that creates a far less joyful picture, we decided to put together a guide to try and sway hotel managers, owners, event organisers, interior designers that you don't have to follow suit, and there are eco-friendly options. It may take a bit more time and effort, but it will be appreciated.
Christmas Trees
Instead of buying a Christmas tree, you could rent one for your reception or anywhere else you'd like to bring in the Christmas spirit. This gives you the option to rent a tree for the holidays and they will pick it up after Christmas and take it back to their farm.
The benefits of doing this are:
Zero waste
After renting the trees are replanted for next year
Trees continue to provide habitats for wildlife
Keeping the trees alive will help lower CO2 all year round
Less fertilisers are used as they are pot-grown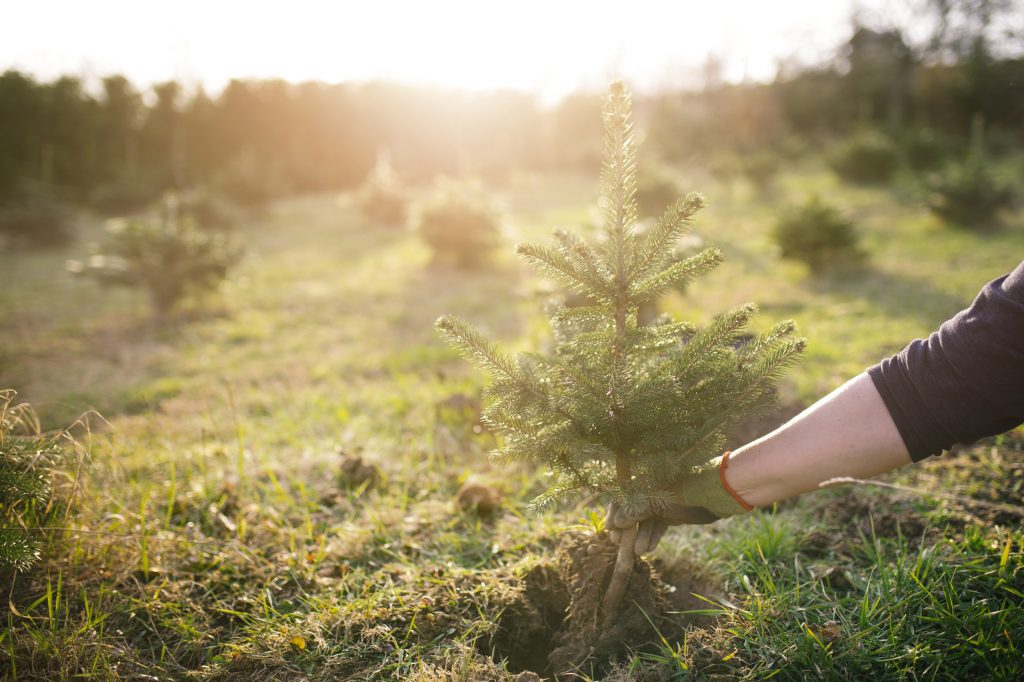 Sadly, there aren't many options for recycling artificial trees, as most are made from a mix of plastic and metals. You can, however, donate them to charity or post them on your local Freecycle group.
Candles
You can add that cosy candle-lit atmosphere to your guests' festive dining experience without compromising on harmful pollutants being emitted into the air with LED candles.
Alternatively, if you prefer the hue of real candles, opt for more eco-friendly ones for your display, such as 100% natural beeswax. Beeswax candles use no chemicals and are one of the safest options for burning, and they have a high melting point. 4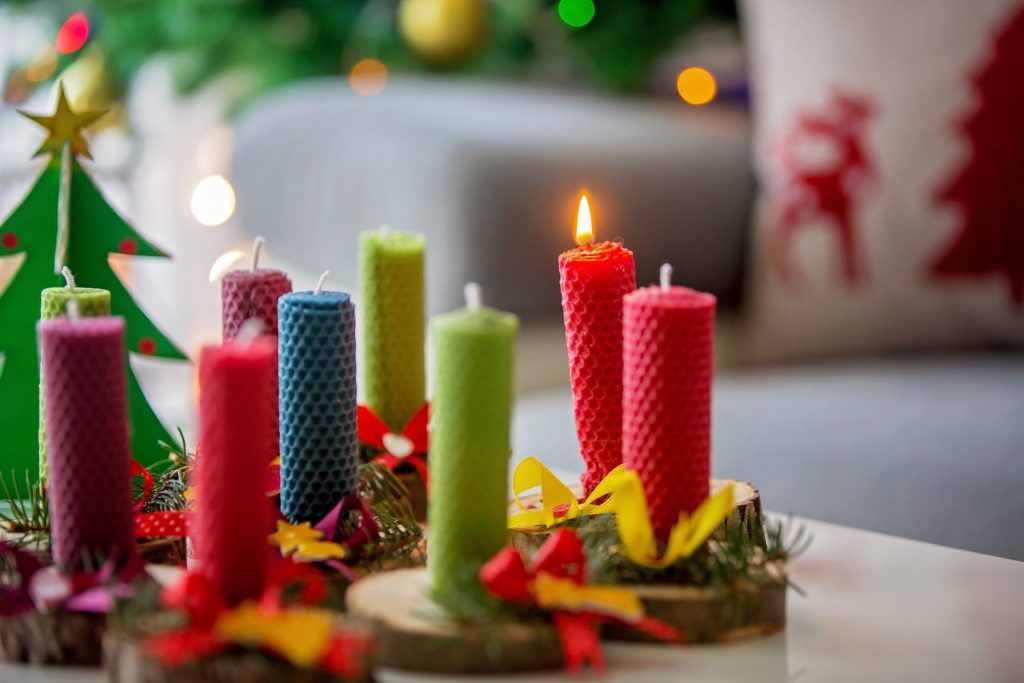 Lighting and displays
There's a huge expense in dressing up your hotel for Christmas. Choosing your theme and decorating your venue can be costly to both buy and put up. Much like you can hire a Christmas tree, you can hire your Christmas lighting too.
Doing so will enable you to avoid the cost of purchasing and repairs over time and allow you the flexibility to choose a new theme year without the cost, storage and waste associated with evolving your Christmas theme year on year.
If you are putting up an external display and want to invest in decorations you can use every year, look to use solar-powered lighting. Granted, there is less light during the winter months but technology has evolved to allow for UK specific solar lighting for displays to maximise minimal lighting during the winter months to light up your display when you need it.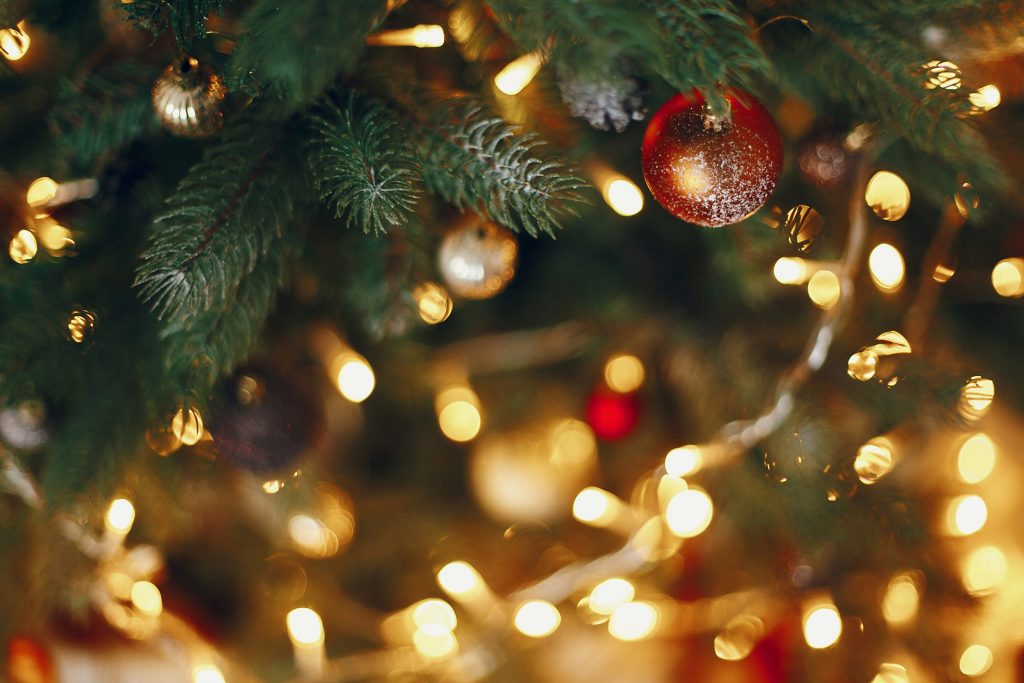 Go natural
In the UK, 125,000 tonnes of plastic waste5 is generated each year for the Christmas period. Sustainability is a buzzword that all event planners and hotel owners can get on board with for a feel-good holiday spirit that will resonate with guests. 53% of UK customers feel better buying and working with brands that have documented sustainability practices6
Think of natural wood and materials to create your Christmas display. Paper and cloth decorations can have a powerful impact and be more sustainable than plastic alternatives. Pine cones, twigs, flower wreaths and twine are all great options to bring your theme to life. Plus, invoking the beauty of nature can really help you to capture that Christmas feeling for everyone.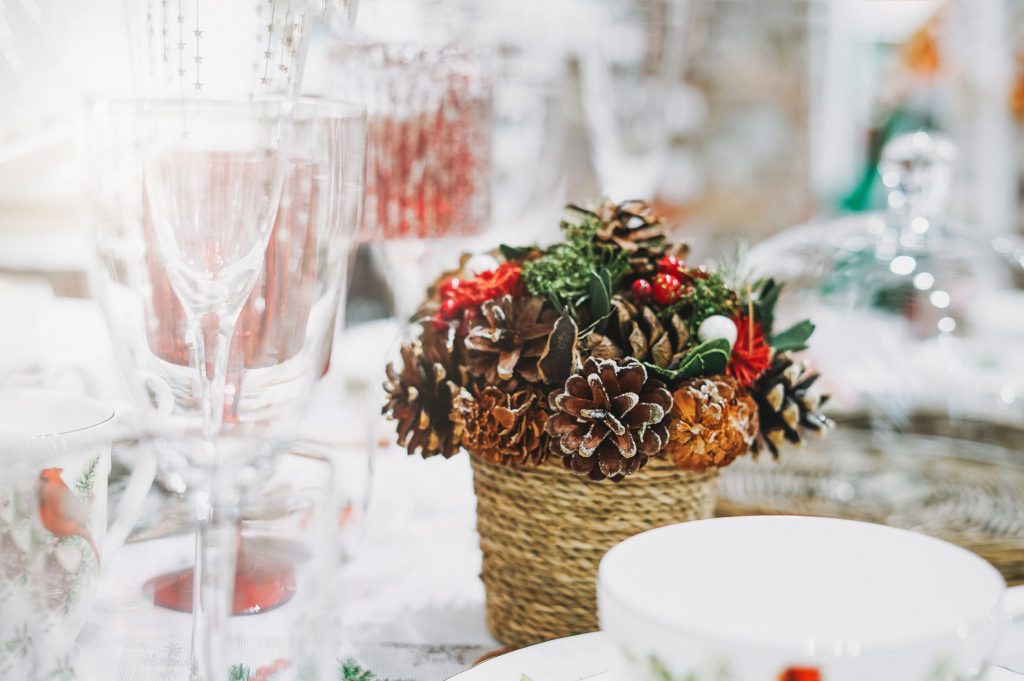 If you want a touch of glam to your display, you can even buy eco-friendly glitters too. After all, what is Christmas if not a time to celebrate the sparkly stuff? Bioglitter is currently the only certified glitter alternative that is 100% biodegradable in natural conditions and completely plastic-free.
Think pre-loved
Traditional style Christmas decorations tend to be made of wood and were made to last. If you gloss over the garish foil and plastic displays of the 80s, you can find some retro decor ideas from rummaging in pre-loved stores or vintage sites. Not only can this save you money on decorations, but you can give old items a new lease of life by including them in your displays, especially if you are looking to replicate a more retro theme.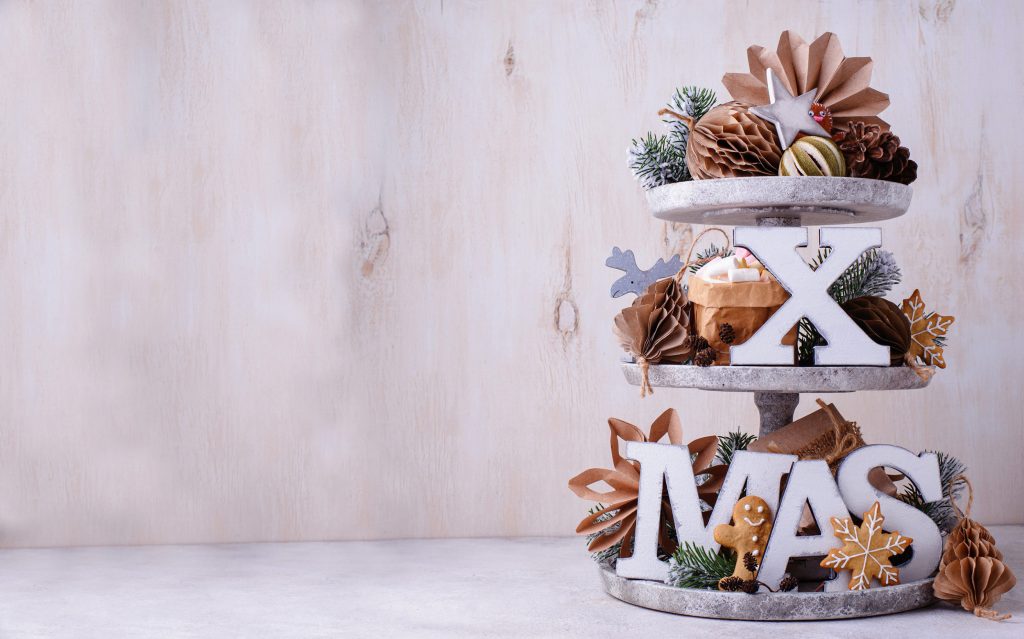 Visit sites such as Preloved, Gumtree or local selling sites to source your inspiration and really lean into the theme of sustainability with a touch of nostalgia.
Go Digital
2 billion Christmas cards are produced each year, with an estimated 1 billion thrown out each year.7 If sustainability is something that you are pushing for, opting to go digital can reduce your carbon footprint and remove the need to send more cards to landfills each year. The same goes for invites. Make the switch to digital cards and e-vites that land in inboxes instead of physical alternatives that you send to past guests. Not only is it green to send these options but cheaper too.
Gift Wrap
Gift wrap is an important part of Christmas. But do you know what gift wrap you can and can't recycle?
Gift wrap can only be recycled if it passes the scrunch test. If it doesn't stay scrunched up, it cannot be recycled. Add to this the tape that is used and the various dyes and printing methods to create an embossed and metallic wrap, and you are left with waste that isn't suitable for anything.
Forgo the traditional gift wrap for brown paper and twine for employees or guests if gifting is a big part of your Christmas display. Or use more sustainable materials such as cloth or beeswax wrap, which can be reused. This goes for any presents you are gifting or wrapping you are using to create your displays.
Creating your eco-friendly Christmas display
Creating your sustainable eco-friendly Christmas display can take an increased level of creativity and patience. Even small changes to your buying and decorating habits in favour of eco-friendly options can make a difference. Don't be afraid to throw out the rule book and go back to basics. It may feel like stepping back in time, discarding the plastic fantastic decor, but we need to change the throwaway society we've become for Christmas to once again be a celebration we can all enjoy for years to come.
If you like this article and want to keep up to date with our latest blog post sign up below:
[1] https://www.hintonswaste.co.uk/news/christmas-waste-facts/
[2] https://www.gwp.co.uk/guides/christmas-packaging-facts/
[3] https://theconversation.com/air-pollution-expert-why-christmas-may-be-the-most-toxic-day-of-the-year-70611
[4] https://beeswaxco.com/beeswax-candles/makes-beeswax-candles-great
[5] https://www.gwp.co.uk/guides/christmas-packaging-facts/
[6] https://www.unilever.com/news/press-releases/2017/report-shows-a-third-of-consumers-prefer-sustainable-brands.html
[7] https://inews.co.uk/inews-lifestyle/christmas/can-you-recycle-christmas-cards-wrapping-paper-where-to-recycle-379885