It seemed like only yesterday when we launched our multifunctional Junea Chair to the hospitality industry.
Its exceptional comfort and contemporary design make it a popular choice for our clients, so much so we've decided to, quite literally, extend it.
The Junea Sofa brings double the style for your guests. Designed by Peter Roth at Burgess, it's an elegant two-seater sofa that works seamlessly with our Junea Chairs and looks just as good in lobby and breakout areas as it does in bedrooms as a standalone piece.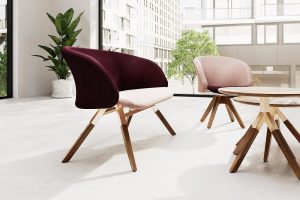 Even better, you can adapt it to match your venue's interior. Available in both high and low back with a wide choice of upholstery from our fabric range, the Junea Sofa also has a base frame in a range of solid finishes plus timber legs available in natural, walnut stained or charcoal stained – giving you the chance to add your own unique style.
Peter Roth said: "The Junea Sofa is a natural evolution to the Junea range, and with a timber leg feature, it also complements our A-Fold and A-Cross tables, making it an excellent addition to our growing collection. As always, we are committed to offering our customers a complete solution that meets all of their needs for hospitality furniture, no matter what the occasion."
To find out more, download our new brochure, call one of our expert team on 0330 333 9258 to discuss options, or fill out a contact form, and we'll contact you. We'd be happy to chat through our entire Junea range.