Christmas will be upon us faster than you can say reindeer, and where there's Christmas, there's food.
City-hopping can make dining an expensive and often stressful necessity for many people passing through your hotel door.
We've no doubt your restaurant is top-notch, your menus exquisite and your staff perfectly polite. But for your guests who are shopped out and feeling festive exhaustion, give them the gift of an excellent meal in the comfort of their hotel room: no stress, no hustle and bustle, just good food and relaxing space.
To help your wait staff deliver the very best of in-room dining, we worked closely with the hotelier of a five-star hotel, to create a Room Service Trolley designed with guest and user in mind.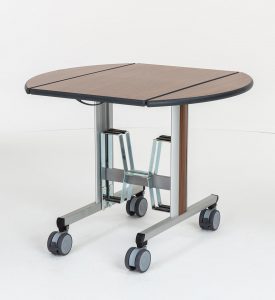 Stylish design
In-room dining should be just as elegant, as comfortable and as on-brand as dining in your restaurant. With three top shapes – round, square and D-end – in two stunning HPL finishes, walnut or grey (What's HPL?), you can keep your aesthetic running seamlessly from room to room. Not to mention the save on laundry costs: who needs a cloth when your table looks this good?
Silent manoeuvering
Thanks to robust castors and lightweight, aluminium frame, moving the Room Service Trolley is a silent, effortless task. Gone are the days of clunky trolleys, clambering down the corridors, threatening to throw champagne off their wobbly tops.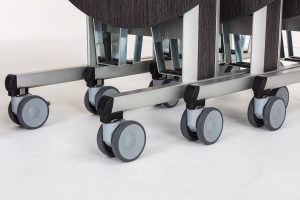 Durability in design
With mechanisms in-built for extensive use, the Room Service Trolley will stand the test of time. We know that your hotel will have multiple rooms, and with the potential for room service calling at any time of day (or night!), your trolleys will undoubtedly get some use. That's why we've included easy to use foot brakes; a polyurea sprayed edge and anodised aluminium hinges.
Keep hot food hot
Your guest has checked in, made their way to their room and chosen their meal. Now, it's up to you to make sure to get it to them the way the chef would want it to arrive. That means keeping hot food piping hot. Our onboard Food Warmer Box will help. Fully insulated, the box can maintain a stable temperature for at least 1 hour, so guests won't have to endure lukewarm lasagne.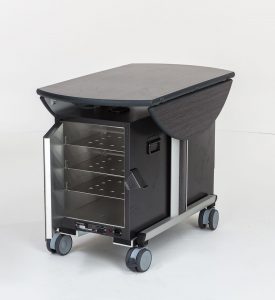 Watch the video to learn more about our Room Service Trolley, and if you'd like more information or a quote, get in touch with our expert teams today on → 0330 333 9258. Or, fill out this contact form, and we'll get in touch with you.