Environmental legislation and compliance affects the furniture industry just like every other.
But at Burgess, we go beyond our green obligations.
Which means you can sit comfortably with your Burgess pieces, knowing that they've been made to the strictest environmentally-friendly standards that minimise harm to the planet.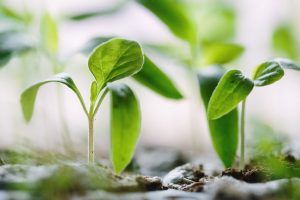 Did you know that we:
Have been 'thinking green' for over 50 years? We were environmentally-conscious years before we needed to be.
Aim to use recyclable materials in our furniture creation where possible, such as aluminium, which is 100% recyclable? Watch this space for a new type of chair fabric we'll be offering soon, made from recycled bottles!
Have active targets and objectives for environmental performance, which are continuously monitored and reviewed?
Use materials and products in the manufacture of our furniture that are from sustainable sources? The wood and plywood we use in our chairs and tables come from PEFC certified (The Programme for the Endorsement of Forest Certification) suppliers. We only source wood from suppliers that adhere to the principles of sustainable forestry and guarantee the preservation of forest biodiversity.
Purposely design and produce furniture with longevity and the environment in mind? We create furniture that can easily be refurbished, has reusable frame parts or is completely recyclable. Our Configure-8 table is 100% recyclable, with recyclable plastic corner moulding and an aluminium frame.
Minimise waste and recycle as much as we can?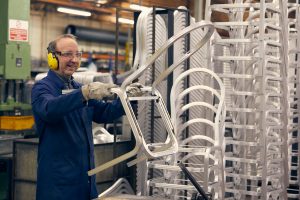 It goes without saying that we comply with all the relevant legal requirements, keeping abreast of any legislative changes. So you have the reassurance of a sustainable supplier when you work with us – which may be a key requirement of your own business.
We're also an active member of FIRA's Club Green scheme, which is specifically designed to support the furniture supply chain for continuous environmental compliance.
Our ethical values
Our green commitment is only part of our story. We've been at the forefront of the furniture business for over 60 years. Our track record of success and innovation is in part thanks to our ethical values too – which we've had in place from the very earliest days, way before it became the good business practice it is today.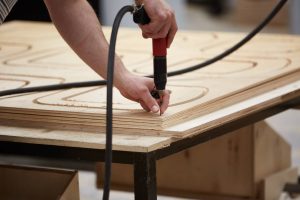 Our ethical values relate to the quality, manufacture and design of every Burgess piece:
Quality is paramount
The fact that most of our products rate much higher than anybody else in the UK for quality and standards speak for itself. 80% of our chairs and 100% of our tables have passed a level 2 or higher when independently tested by FIRA.
British craftsmanship
Our furniture is entirely made in Britain with many processes still completed by hand in our factory by our highly-skilled team, for furniture that's guaranteed to be the best and finest quality.
Design & Functionality
Burgess furniture doesn't just look good – it works good too, for years and years to come. Our products are the perfect partnership of on-trend, up-to-the-minute design and functionality, from stand-out statement pieces to the everyday furniture you can't be without.
Find out more
Learn more about our green commitment and ethical values. Download our Green for Life environmental policy and talk to our team on 0330 333 9258