Christmas is a magical time of the year. For hotels and hospitality, it can be one of the busiest times of the year outside of the typical holiday season. People visit hotels over the Christmas period for many reasons, be it to celebrate together with family and friends, enjoy a winter getaway, or simply for a change of scenery.
As the hospitality industry gears up for a busy season this year, Christmas bookings are already in high demand. Making sure your hotel is welcoming and exuding the joy and festivities of Christmas can help you ensure your guests have the best time during their stay.
Far from being an added expense or a chore, creating a stunning Christmas theme around your hotel can improve sales. Around 59% of guests are likely to spend more time and money in an establishment if they feel more at home thanks to the Christmas decor. At the same time, 15% of people won't visit a venue if there are no decorations at Christmas time.
The truth is, if people are travelling over this period, they want to feel at home. Just because they aren't at home, doesn't mean they should be missing out on that special Christmas cheer and hotels should be capitalising on this by creating a Christmas feeling emulating a home from home.
If you're a hotel owner, manager or interior designer in need of some inspiration this festive season, this article looks at some of the best ways to create the perfect Christmas feel that will thrill your guests.
Your Christmas theme
It goes without saying that your style for Christmas decorations should be consistent. Keep to the same colours and themes throughout, including the lobby, communal areas and hotel rooms too. Try to limit it to two primary colours. The traditional green and red is always a winner. However, in 2021, there is a significant focus on sustainability in all areas, including reducing waste and excess in Christmas decorations. Statistics show that, on average, around 30% more waste is produced at this time of year, with over 9,000 tonnes of Christmas trees thrown away each year alone.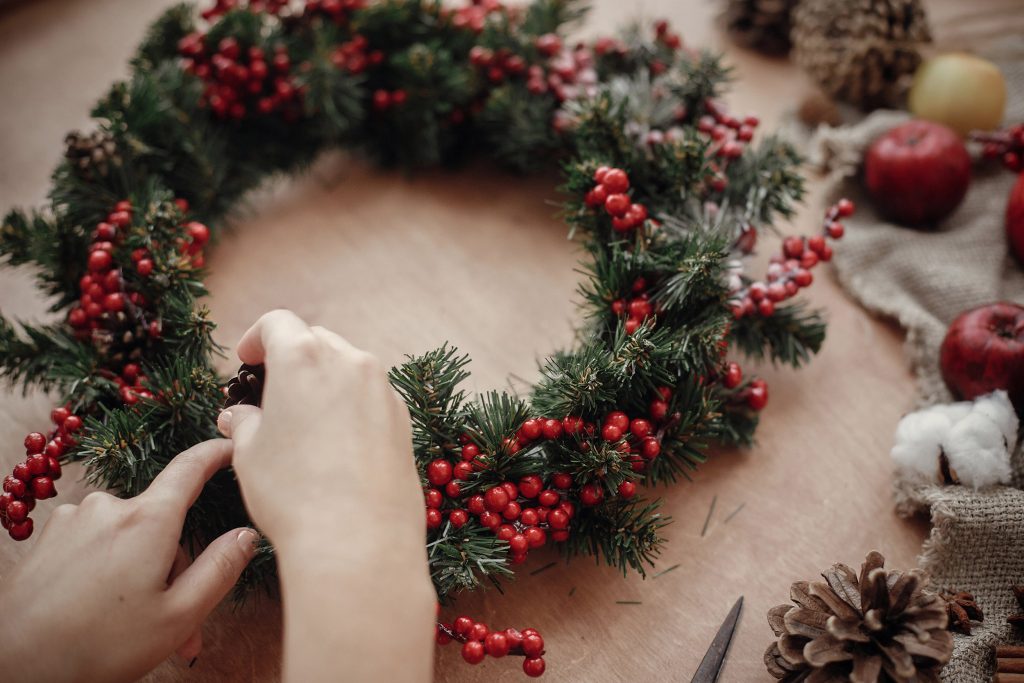 Invoke a more natural, earthy feel by using sustainable materials such as fabrics and wood to create a stunning yet straightforward traditional Christmas theme that involves as much of nature as possible. Think acorns, Holly wreaths, twine and branches adorned with fairy lights, wooden ornaments, dried fruit and more. You can find this theme in a variety of different colours. One such popular colour in recent years is a pastel palette that works to soften the harsh wood and adds a touch of magic to festivities.
Other popular trends that can be carried out with stunning effect include;
White snowy wonderland featuring an abundance of snow-covered decor
Silver and gold (the colour of 2020) together allow for the sophistication that silver brings to any decor, softened by the warm glow of gold to create a dazzling effect.
Burnt oranges and navy to bring in tones of autumn.
Candyland themes in various colours depict a scene of sweetness akin to Willy Wonka's Chocolate Factory.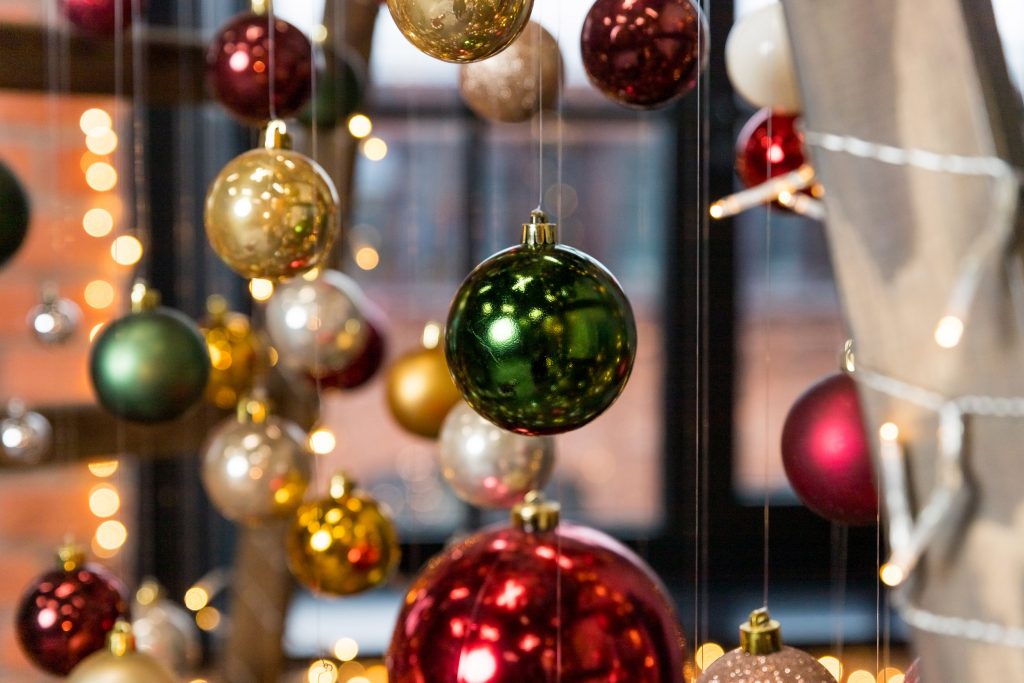 Less is more
By this, we mean you want to create a centrepiece that is visually stunning and captures everyone's attention as soon as they see it. If you look at some of the more luxurious hotels worldwide, you will see a common theme present throughout. The use of the Christmas tree is something that takes centre stage amidst everything.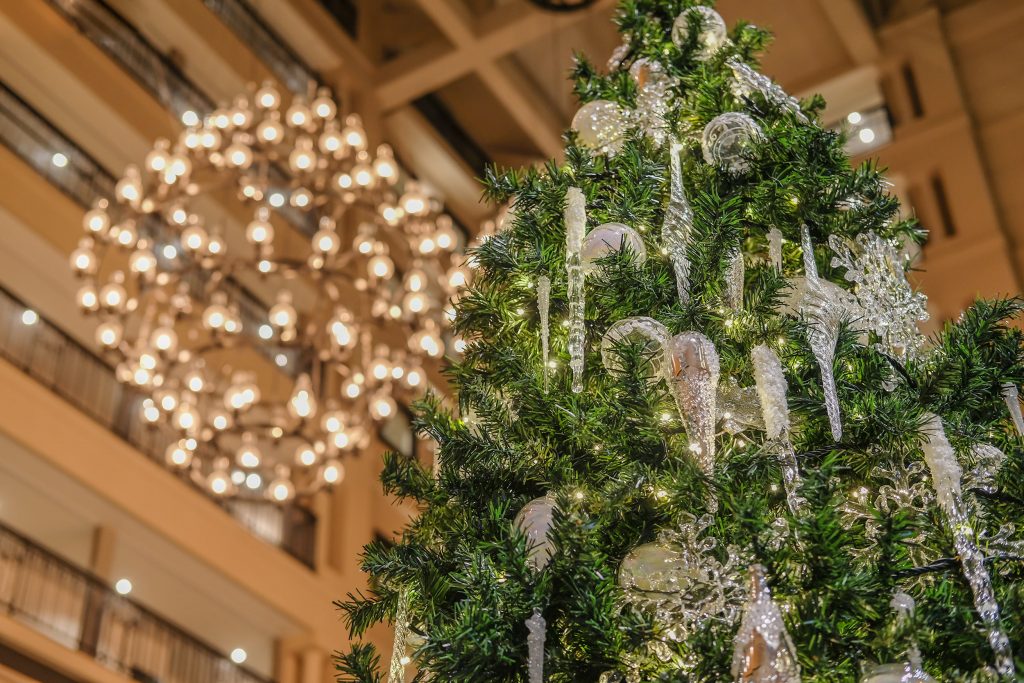 Much like a tree would in someone's home, you need to create an understated theme around your tree, almost as an extension. Focus on a few well-placed decoration zones in more significant areas to draw attention, such as your lobby or reception desk, even your lounge area. Look to Claridge's past Christmas displays where the tree is located in front of the grand sweeping staircase to add to the drama and glamour of the area.
Then throughout the rest of the space, choose well-matched accessories to support your chosen theme without overpowering the room or subtracting from the effect of your decoration zones.
A good tip is to create an area people can snap pictures of the decor or themselves to share on social media. The more visibility you get the better. There is nothing like a positive review from a guest shared publicly to support your marketing efforts and bring recognition to your hotel.
Lighting is key
What is Christmas without lights? Whether candles or fairy lights to light up displays, you need lights to create that ultimate Christmas feel within your hotel. Typically warm white lights are the go-to for creating that ultimate Christmas feel and they work well with most themes.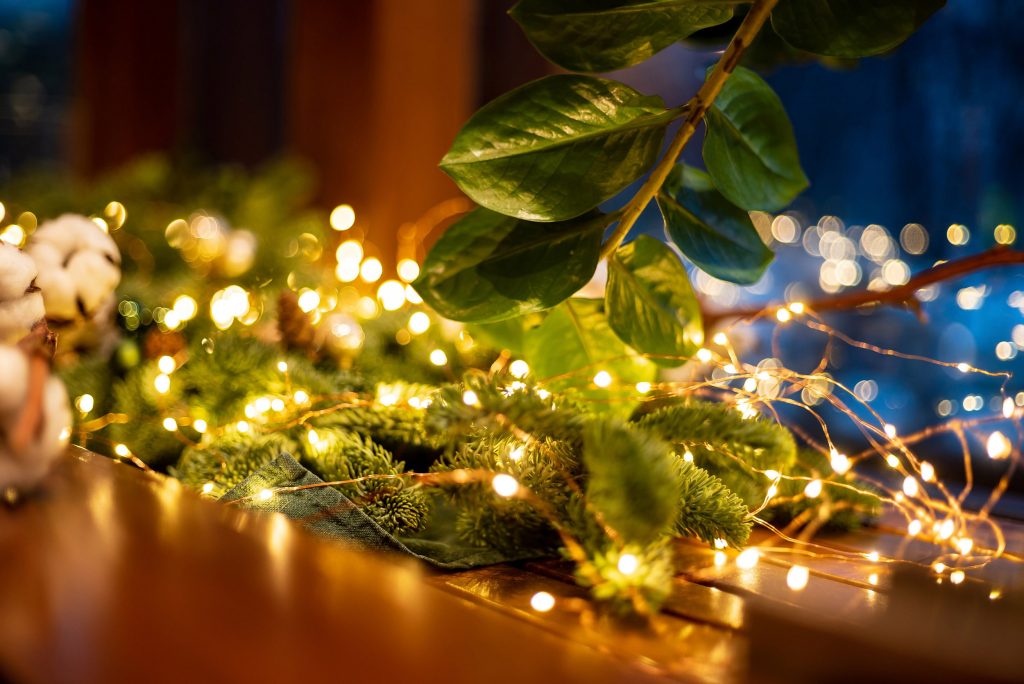 Candles are also an excellent idea for adding something special to your Christmas theme. Choose flameless LED candles to reduce emissions caused by real candles and to limit the fire risk in the event of an accident.
Extra touches
What makes Christmas unique to you? If you think about it, it is those small touches that give your Christmas that festive feeling. You can have the best decorations in the world, but it is all wasted if you cannot invoke that feeling. When it comes to recreating that special Christmas for guests, you want them to feel as if they're sitting in the comfort of their own home. This means paying attention to those small details.
Scents
Think cinnamon, pine, hot chocolate, a roaring fire and gingerbread, to name a few. Then look at how you can recreate your chosen scent throughout the hotel, especially in the communal areas and the lobby. Use decorative fragranced bowls carefully placed on desks or tables. Fragrance sticks are great for a good scent thrown in hallways and can be hidden in decorations too, and give guests the notion to have this in their room by offering scented items to use. Some people may prefer to forgo this in their rooms, so make sure anything you offer is sealed to avoid unwanted additions.
Gifts
Be it bowls of candy (sealed for hygiene, of course) at check-in and check out and in rooms, to freshly baked Christmas treats left in hotel rooms or alongside housekeeping or room services facilities. It might be special offers to local festivities or activities that guests can join in with or shopping discounts for those last-minute bits. Christmas is the social season, so making people feel welcome and valued will be a great starting point.
Food
Your Christmas Menu – both food and drinks should encompass some of your region's local Christmas delicacies along with traditional meals and drinks. Think Eggnog and Mulled Wine for drinks. Chocolate Peppermint and chocolate orange for snacks along with dried cranberries and clementines (opt for the ones with leaves and stems still attached for a classic British fruit many associate with Christmas). Of course, we cannot forget the traditional mince pie! Delight children both young and old by gifting candy canes as people come and go.
Put on special Christmas themed menus in the run-up to December 25th and make sure you offer all the trimmings both before and on the big day itself too.
Activities
There is an abundance of activities popping up through December and January across the country. Engage guests by offering Christmas themed activities for them to indulge in during their stay. From cookie decorating workshops, making your own decorations to having a special Santa postbox set up for children so they can still send their letters directly to the big man himself.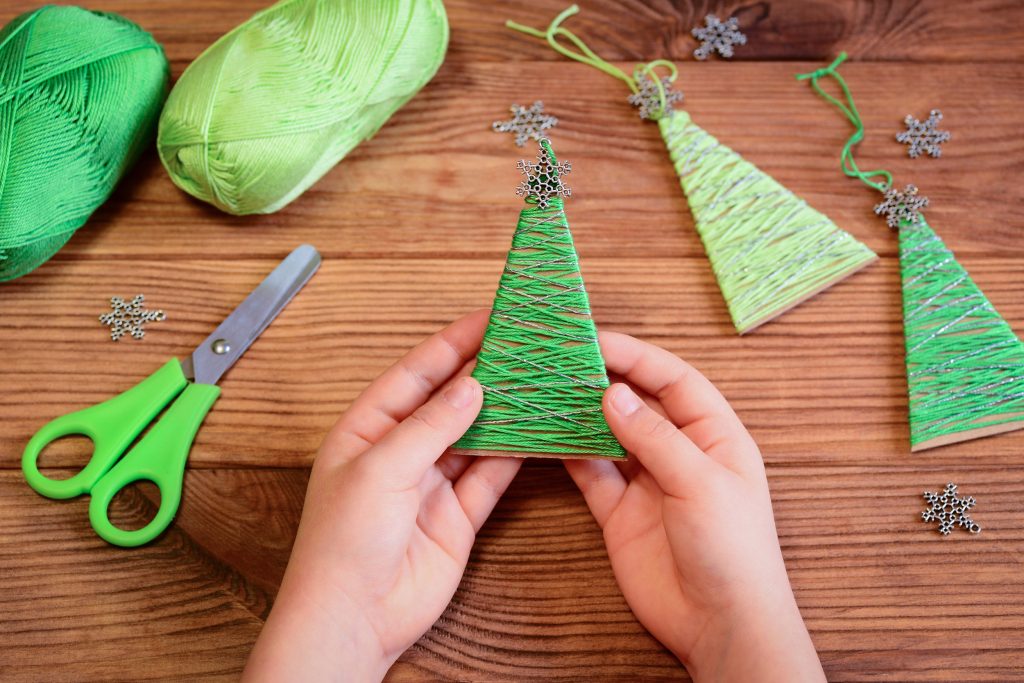 Music
When you think of Christmas, you think of music. Whether you choose to play traditional music and melodies through the holiday period or want something more modern, you cannot complete your Christmas feel without music. Why not invite carollers to perform in or around the grounds to cheer up guests or host an evening of Christmas songs.
When it comes to creating that ultimate Christmas feeling in your hotel this holiday season, the devil is in the detail, as they say. Boost revenue and marketing by allowing your decorations, themes and added extras to capture the festive season and win the hearts of your guests. A great theme will translate well across social media, which you can capitalise on to provide the perfect Christmas setting in a home from home that focuses on everything the festive season has to offer.
Share the Christmas spirit
Make sure all your Christmas joy reaches far and wide. Hotel owners and managers should encourage everyone to get involved in sharing images and talking about the wondrous theme you've created.
If you've had an interior designer help with the festive theme ask them to contribute to a blog post or ask them to share this on their social media.
If you've gone down the sustainable/eco-friendly decoration route, make sure you get as much exposure from this as possible to encourage other hotels and businesses to do the same. A great way to do this is to write a Press Release for journalists to pick up and use. You never know you might get some free publicity from it.